The Laboratory for Healing Encounters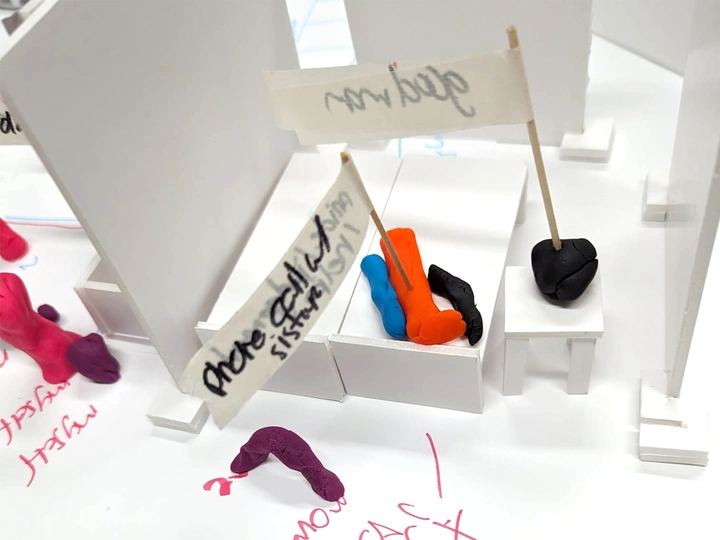 This space focuses on materializing pop-up experiences to instill imagination and exploration of a new sense of self outside one's Eating Disorder.
---
Silvia Neretti
Tempe, USA
Links
Team members
Silvia Neretti
Field of work
Design, Multimedia, Research, Other
Project category
Raising awareness
Project submitted
2023
My name is Silvia Neretti, I was born in Bologna, Italy. I own a bachelor's degree in Industrial Design (2012) from the Free University of Bolzano (Italy), with the project "The Perfect Imperfect's Manual", a self-help and instruction manual to build tools that help you become aware of your bad habits, by forcing you into performing them. I received the ADI Design Index, Targa Giovani for this project (2013). I own a master's degree in Social Design (2014) from the Design Academy Eindhoven (Netherlands), with the project "The Unhappiness Repairer". This project created the role of a designer-therapist, which takes care of your current experiences of unhappiness, by tweaking the material space of your home environment, reflecting inner work, and supporting small and long-term changes. This project was nominated for the "Gijs Bakker Award", and "Keep An Eye On Talent Award" in 2014. I exhibited this project at the Dutch Design Week in 2014 and at the Milano Design Week in 2015. During my studies at DAE, I explored how to design fictional services that create spaces to care for needs that usually are overlooked. The "Exchangeable Identity Shop" is a shop that allows you to forget about yourself, by exchanging your identity with a stranger for one day. I received a Fulbright Scholarship in 2016 to pursue my Ph.D. and explore the topic of healing from Eating Disorders through design, at Arizona State University, where I am currently located. In 2017 I received the "Michael Vinciguerra" scholarship from the Fulbright Commission in Rome, to support the continuation of my research. I am currently a Ph.D. Candidate and in my last year of research. I published two academic papers in the field of Design for Health and presented my work at international conferences. I am interested in how people heal, my curiosity lies in how the non-humans play a role in it. I approach mental health and healing as a problem of imagination and more than social justice.
---
The Laboratory for Healing Encounters is a space that focuses on designing experiences, coincidences, and encounters to support the healing process from Eating Disorders (ED). Encounters aim to instill new understandings and narratives to get in contact with, imagine, and explore a new sense of self, outside the experience of ED. Each encounter is designed to address ED ecologically, and to support a peaceful cohabitation with one's body, emotions, and eating abilities, rendering healing a social responsibility. The project is the outcome of a Ph.D. research in exploring the role of ontological and fictional design in supporting healing from Eating Disorders, which is in the course of being completed and wishes to be expanded in a real-life initiative.
Briefly, a relational and multidimensional research approach allowed seeing ED as a description developed through the lens of the biomedical model, which reduces the issues on individual bodies, while rendering recovery an individual responsibility. ED, however, could be reframed and seen as a problem of imagination, and social responsibility. The multimodal collection of recovery lived experiences, allowed seeing healing and recovery from ED as two different experiences that can be integrated. Recovery is a structured approach developed by the biomedical model in mental disorders to tend to Eating Disorders as a bodily diseases. Healing often follows a coincidental and unstructured path, with different consistencies, and it provides capabilities to imagine a new sense of self. By reconsidering bodies in terms of their relationships with their socio-economic and material environment, and their capacities to entertain realities of health and sicknesses, one can see how design's ontological, and reality-bending qualities can support alternative reframing of issues, and the creation of healing encounters.