Church Reuse: an Adapted Pilgrimage to Flanders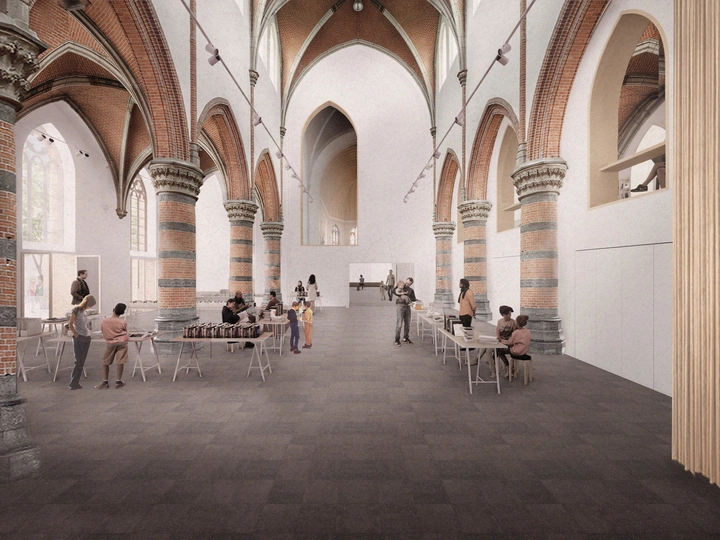 Essays on the Flemish model of sustainable repurposing of church architecture, for the revitalisation of Irish towns.
---
Beibhinn Delaney, Sven Sterken & Charlotte Ardui
Flanders, Belgium.
Links
Team members
Charlotte Ardui
Beibhinn Delaney
Sven Sterken
Field of work
Architecture, Design, Research
Project category
Renovation
Project submitted
2022
Beibhinn Delaney is a project architect with Donaghy + Dimond Architects in Dublin since 2021, and a contributing author to Architecture Ireland since 2022.
Sven Sterken is Associate Professor at the Faculty of Architecture of KU Leuven since 2006. His ongoing research project: 'Catholic Territories in a Suburban Landscape. Religion and Urbanization in Belgium, 1945-1975'
Charlotte Ardui is a PhD candidate at the Faculty of Architecture of KU Leuven since 2019: 'Faith in the Periphery'.
---
While previously at Tom Thys architecten in Brussels, I was engaged in research into the adaptive reuse of Flemish churches. This included an entry to the 2021 competition held by the Flemish Government Architect for the conversion of the Church of St Martin in Burcht; a collaboration with Studio Roma & my team members Prof. Sven Sterken & PhD candidate Charlotte Ardui, both of the Faculty of Architecture at KU Leuven.
This proposal, awarded 2nd place, was part of a larger study exploring the potential of post-war parish churches to strengthen the social & spatial resilience of the urban sprawl in Flanders, driven by the Project Agency for the Adaptive Reuse of Churches. This secular guidance mechanism, introduced in 2016, addresses vacant churches as premium architectural challenges, thus generating high-quality research by design, an aspect that sets the Flemish model of adaptive reuse of churches apart from other similar initiatives globally.
Since returning to practise in Ireland, I have been reflecting on how this research can be of use in an Irish context, which is similarly part of a broader cultural shift away from Catholicism towards a more plural society. There is now a pressing need to revitalise Irish towns through sustainable reuse & repurposing of existing underused & vacant structures, & the Flemish model provides a useful benchmark for this.
My proposal for this grant is to visit a selection of churches, towns & studios in Flanders engaged in church reuse & produce a collection of essays as a form of travel diary. My itinerary of site visits, interviews, & readings of drawings & relevant texts will be developed with & guided by my team members, who are leading this research at KU Leuven. The essays will incorporate close readings, critical analysis, & personal observations, expanding my practice into creative non-fiction as a method of investigation, in order to drive the exploration of new ideas for the reuse of churches in Irish towns.