Opening: European Capital of Culture Timișoara 2023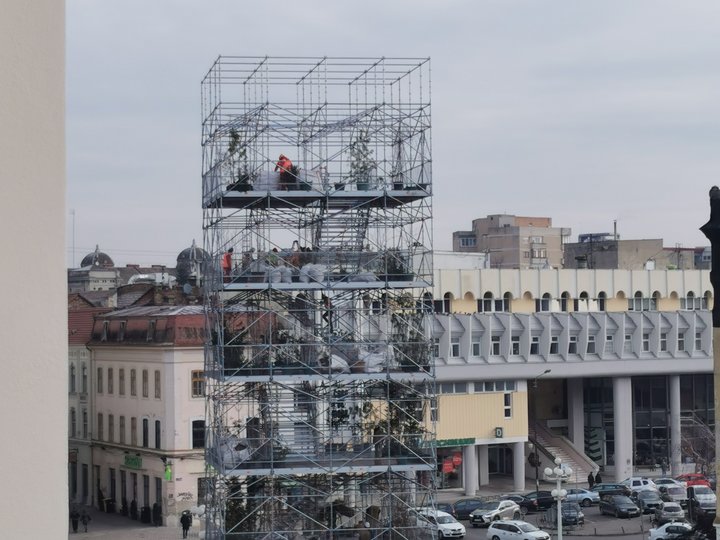 23 February 2023
---
Under the slogan "Shine your light! Light up your city!", the European Capital of Culture Timișoara 2023 opened on 17 February 2023.
LINA member Romanian Order of Architects – Timiș Territorial Branch, known for organising the Beta Timișoara Architecture Biennial, is tightly connected to the programme and will organise a series of activities throughout the year. Their activities will centre on participatory design and architectural interventions to cultivate shared spaces.
One such project, titled The Nursery - 1306 plants for Timișoara, was inaugurated at the opening ceremony. Located at the Victory Square, the city's 0-point, landmark location of Timișoara, it is rarely used as a resting, sitting space. The structure by MAIO Architects proposes to look at Victory Square from a new perspective, from above. The Nursery – 1306 plants for Timisoara is a temporary, ephemeral installation made of a modular, metal structure, planted with 1306 perennial species of trees, shrubs and flowering plants and annual species (productive and ornamental) produced in community gardens in Timișoara or at horticultural research and higher education institutions.
The project aims to convey a strong message about urban biodiversity as a central element of Timisoara's identity and the ecosystem values it brings to society, and will act as a venue for a series of events and happenings throughout the year: including with LINA fellows - the project is part of the LINA Architecture Programme.