Sofia Station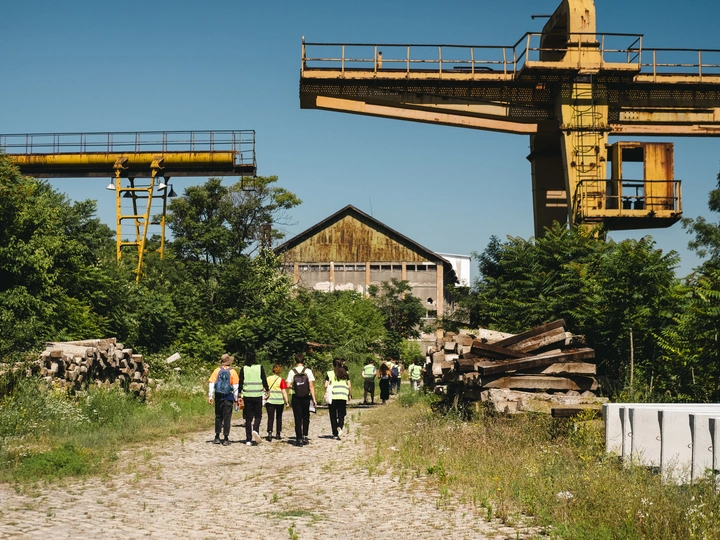 Setting up a collective vision for unused railway yards in Sofia, Bulgaria through performative dialogue and site intervention
---
GRADOSCOPE
Sofia, Bulgaria
Links
Team members
Iwo Dimitrov
Georgi Nikolov
Adriyana Sabeva
Teodora Stefanova
Ina Valkanova
Aneta Vassileva
Georgi Yakaniev
Pavel Yanchev
Field of work
Urban planning, Communication, Research
Project category
Renovation
Project submitted
2022
GRADOSCOPE is a collaborative practice focused on the reinvention of urban spaces. We are a multidisciplinary team with expertise in architecture, urbanism, communication, design, and multimedia. We founded practice as a response to the shifting landscape of urbanism and as a safe space, where we can develop the work we believe in. Therefore we initiate all of our projects. Recently, we were awarded the first New European Bauhaus Grant in Bulgaria to continue our work on Station Sofia.
---
The project focuses on the area between Stochna Gara and Podyene, two stations part of the main railway line of Sofia. Once an important segment of the Orient Express Route, the railway lost its activity and currently represents large partially deserted industrial spaces in the central part of the city.
Gradoscope was tasked by the Municipality of Sofia to create a masterplan for the area. We realised that such a classical planning approach is doomed to fail. First, the area is enormous, secondly the territory is owned by the Ministry of Transport, which strongly opposed any municipal actions. The site didn't need a master plan but a sensitive approach to identify the qualities of the place and the ways it could serve the city.
Moreover, during our analysis we discovered the abandoned building of Stochna Gara, a cultural heritage site, not used since the 1940s. We quickly shifted our work from an urban analysis plan to an actual intervention in the building. We designed a performative presentation of our work as a test for possible future.
We teamed up with UACEG, ETH and Naples University for an academic exchange on Adaptive Infrastructure. For the first time UACEG organised a studio, where students from five Chairs worked together on a common site. We invited fellow practices 51n4e, Rotor, 1010 and Denkstatt to join expert round tables, share their experiences and think along with us.
After very difficult negotiations with the Bulgarian Railway Company, on the 20th of June the partly ruined building of Stochna Gara opened its doors to the public not as a railway but as a venue for interactive discussions, exhibition, lectures and dancing. The project does not propose an actual design but a collection of small careful steps, crucial to complex urban processes. The Railway company reacted so positively to our invention that they engaged Gradoscope meanwhile for more projects, proving the power of collective action for sustainable transformation.