reuse.matters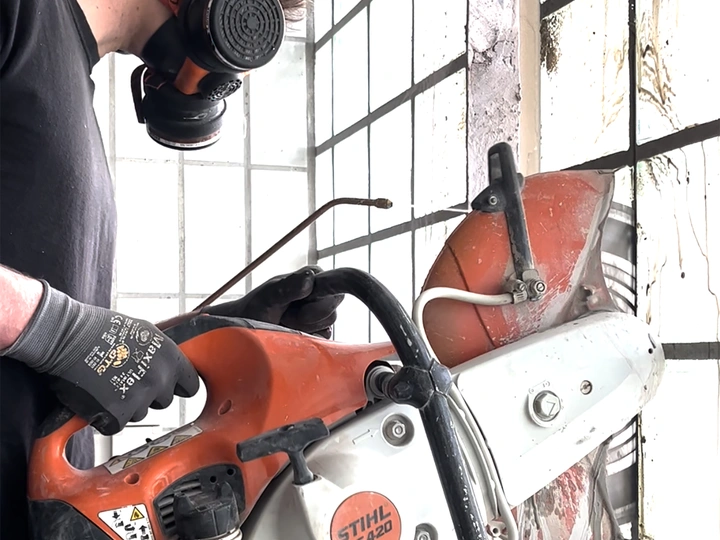 Developing rational industrial processes to enable reuse of building materials at scale and sharing them with everybody through a digital database.
---
Baukreisel
Berlin, Germany
Links
Team members
Ioan Brumer
Jonas Läufer
Jannik Oslender
Conrad Risch
Jonathan Schmalöer
Field of work
Architecture, Design, Engineering, Ecology, Research
Project category
Material tracking and reuse
Project submitted
2023
Baukreisel is an interdisciplinary group of architects, engineers, political and social scientists, economists, and lawyers, who – after years of informal activism – founded Baukreisel e.V. as a non-profit organization in Berlin in 2022. The organization is dedicated to maximizing the reuse of existing building materials through research ("reuse.matters"), teaching and creative activism – confronting and challenging the material and immaterial damage of current building practices. It advocates a fundamental reorientation of the building industry by re-evaluating and critically questioning existing linear processes and at the same time aiming to create a new sense of beauty. Baukreisel aims to preserve both the material energy - thus ressources and CO2 emitting materials - as well as the creative energy - building culture and design practices - encapsulated in existing buildings.
Baukreisel is currently Bauhaus Earth fellow in 2023 and 2024 for its work in a sub-project of "reuse.matters". Previous projects have been funded e.g. by the German Bundesinstitut für Bau-, Stadt- und Raumforschung and it has worked with numerous universities (RWTH Aachen, KIT, University Siegen, TU Dortmund, ZU Friedrichshafen, …), offering workshops and seminars and input on material reuse and reuse culture in architecture. Recently, Baukreisel welcomed two new members from Austria, thereby becoming international and it aims to further connect through-out Europe, hopefully with the support of the LINA community!
---
The reuse of building materials is predestined to reduce the massive footprint of the construction industry because of its low resource and primary energy consumption. However, it fails in practice due to effectiveness (lack of material and process knowledge, and generalization of existing reuse cases) and efficiency problems (lack of knowledge and information linkage, systematization and digitization, costly case-specific expert planning).
The project "reuse.matters" is identifying and describing the economic and planning hurdles of reuse in the construction industry and showing possible solutions for the efficiency and effectiveness problems by providing space for experimentation, systematization and automation.
This goal is pursued in two main working areas:
"building.matters":
Laboratories to showcase "Optimal Reuse Cases" (ORC). The current focus of these laboratories are: primary structures "concrete.matters", facades and windows "facade.matters" and heating systems "system.matters". The ORCs will be developed by means of simulations on models and in full scale. The materials are taken in existing buildings that are to be demolished in Germany, providing real-life laboratories.
"data.matters":
A database for all relevant information and processes of reuse, digitized in a machine-readable way and accompanied by an algorithm that shows the knowledge of reuse cases for a given material thereby determining the best reuse option for a given scenario. In contrast to existing reuse market places, material information is stored in an intercompatible way and with existing open digital standards of the construction industry.
As a non-profit, our aim is to become a channel for both spreading information about our reuse experiments as well as collecting and sharing information from already existing approaches and in a broader sense, exchanging views with all involved practitioners. Becoming part of the LINA Community would therefore be a huge step forward.
Fellow