Light Activism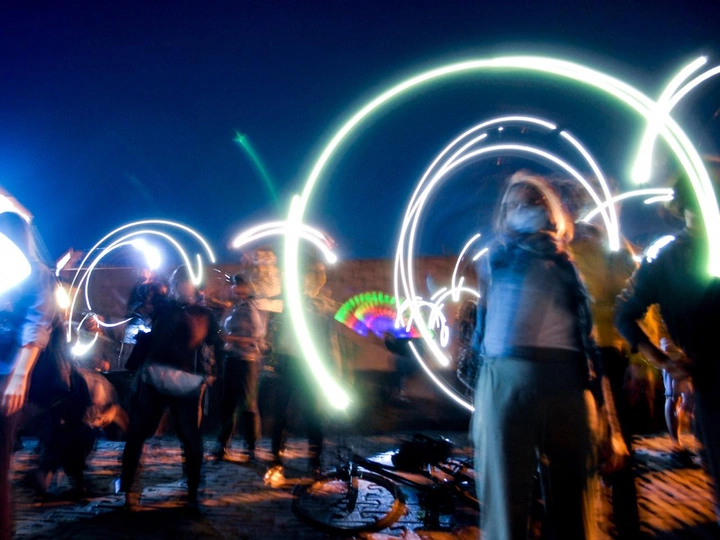 A series of open calls for collective participation in lighting hacking actions in the city to transform the use and perception of public spaces.
---
Martin Flugelman Olmeda
Berlin, Germany + Buenos Aires, Argentina
Links
Team members
Martin Flugelman Olmeda
Ian Greiner
Mateo Olabarieta
Ramon Parajua
Axel Rothbart
Field of work
Architecture, Urban planning, Ecology, Photography, Other
Project category
Public space
Project submitted
2023
Martin Flugelman (1987, ARG) is an architect from FADU-UBA, Argentina and light designer graduated at Hochschule Wismar, Germany.
He is a researcher of water ecosystems, a teacher, and light performer. Among his main interests is the construction of urban experiences using light as a tool in public spaces thought from the bodies of citizens. Specialized in urban morphology and photographic research, he registers and investigates territorial transformations in aquatic fringes and thinks about the way in which architecture and landscape relate to each other in cities.
Expanding the edges of the architectural discipline, he is a member of the international collective FLUXLIAN, a collaborative platform focused on light applied in arts, design, performance, and activism.
As a collective we focus on how we use lighting technologies, emphasizing engaged bodily actions that deviate objects and use them in non-conventional ways to research with space, perception, light and darkness. With a multidisciplinary background, we perform a diverse range of actions, from light interventions for live music, to stage design, dance shows, installations, urban performances and collective light choreographies. To build caring relationships and networks, we developed a non-conventional lighting workshop to share a place for testing and drifting around the possibilities around experimental lighting. We address a wide range of urban problems through the prism of light, practically and symbolically, with it being used as a tool to affect the immaterial and material urban environment.
Coming from a non-expert background but with more than 10 years of experimentation with lights and performance, FLUXLIAN developed a non-conventional approach to lighting. In this sense, we promote a non-conventional lighting.
The collective is spread between a local practice Buenos Aires, Argentina. And an expanded nomadic experiences in European Context, now based in Berlin.
---
Light has the power to change our perception of the world and shape our experience. The complexity of urban problems in the 21st century requires alternative and interdisciplinary approaches in order to transform public space.
Light activism is the appropriation of lighting technologies by citizens and communities (not governments or institutions) that use devices to visualize and problematize conflicts, disputes, abuses of power and political and ideological positions. The medium of light is transformed into a metaphor, to put something under the spotlight, to focus and reveal it. Light activism uses light as a tool to develop actions and interventions in the urban space to hack the status quo.
In recent years, we developed a series of open calls for collective participation in light hacking actions in the city through the use of simple wireless lighting devices - such as flashlights, lasers, mini projectors and cell phones. The goal of these actions is to transform the use and perception of public spaces. By placing the body in specific sites of the city, defined through exploration and urban mapping workshops, we intervene with site-specific light choreographies. Moreover, connecting with social actors, organizations and movements regarding specific themes, we activate a detour in relation to collective memory and the use of urban spaces motivated by the need to shed light on territorial, environmental and housing conflicts and to build a series of experiences and images collaboratively.
By placing their bodies in public space, challenging and rethinking the socio-spatial-temporal contract of the night, questioning the existing logic of urban planning regarding nightlife, and fostering active and playful forms of living in the cities, it is possible to build urban shared experiences in order to transform spectators into active performers and show that collectively they can enlighten the contexts they inhabit.