Makery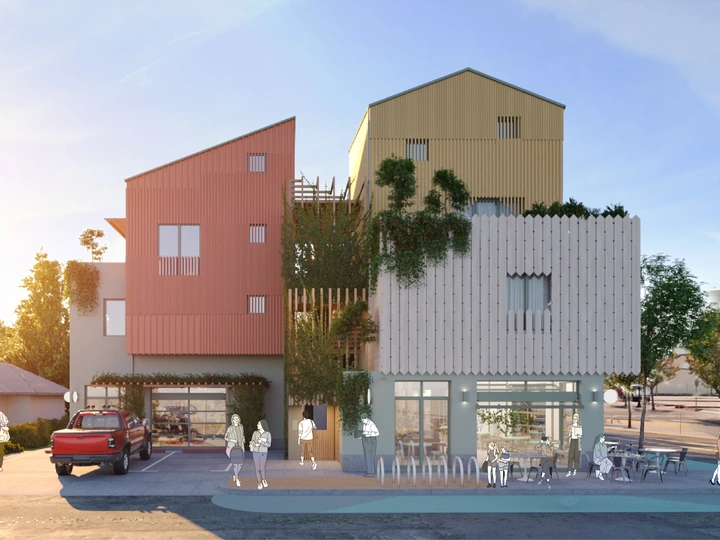 Micro-mixed use development of an 80'x80' unit with living space and makery, the new 'lifestyle' for rural and small cities!
---
OPEN URBAN PRACTICE_OUP
Prishtina, Kosovo
Links
Team members
Ibrahim Beqiri
Selva Gürdoğan
Alexis Şanal
Murat Şanal
Gregers Tang Thomsen
Field of work
Architecture, Design, Urban planning, Ecology, Research
Project category
Urbanity
Project submitted
2023
Open Urban Practice is initiated by ŞANALarc and SUPERPOOL in a partnership that draws on the combined 35 years of experience in consultancy, design, architecture, urban design and planning, projected development, and cultural production.
ŞANALarc is a knowledge-centric design practice focused on civic and civil architecture, research and city-design situated in Istanbul. The firm explores how unique qualities of place, intertwined with technology, art and social life, generate distinctive and expressive environments. Intensifying space, celebrating the natural environment, and delighting the imagination are valued in each of the practice's architectural endeavors. Professional efforts are focused on design as a contributor to civic society and nature by exploring cultural values, sustainable design principles, local ecology, natural light, geometry, local materials, and available craft and dexterity in construction methods.
Superpool is a research-based architecture practice initiated by Selva Gürdoğan and Gregers Tang Thomsen in 2006 in Istanbul and in 2017 in Copenhagen. Superpool is interested in local practice and its contribution to global discourse. It tries to understand, remember, inspire the city and its future.
The office has done this through its own projects as well as running intivativs such as Studio-X Istanbul.
---
At the heart of the American Dream of homeownership lies the garage. It represents the joy of engaging in hobbies, pursuing entrepreneurial ventures, accommodating an active family lifestyle, serving as a small office space, or even incubating the next big tech or entertainment company, as many successful enterprises had their humble beginnings in a garage. We must also not overlook the social aspects, such as interacting with neighbors on the patio, tending to a perennial garden, or hosting iconic backyard barbecues. Makery embodies this dream while discarding the sprawl. The sites are carefully selected within a 5-minute walking distance from the main street, local schools, parks, and key natural amenities. This approach not only expands the local economic footprint but also fosters a healthy and engaged community life.
Makery wholeheartedly embraces an explicit aesthetic that focuses on low embodied energy, biophilia, and minimal energy consumption, even incorporating elements of 'off-the-grid' subculture. The main structural framework consists of locally sourced Mass Ply timber, manufactured off-site, while the framing walls are insulated with natural products derived from the timber industry. The exposed mass timber and prioritized roof gardens provide continuous access and exposure to natural materials and high performance insulation for the residents. Rainscreens, crafted from repurposed wood sourced from barns, are treated or repainted and installed as panels. In addition, a rain collection system, heat pump recovery system, and photovoltaic roof panels are integrated to minimize reliance on municipal services, reducing operating costs significantly.
The vision for this prototype is to stimulate the economy in smaller communities, rejuvenate aging neighborhoods, and attract a new generation of micro-makers and entrepreneurs who contribute to the vibrant Americana narrative.