Fog-X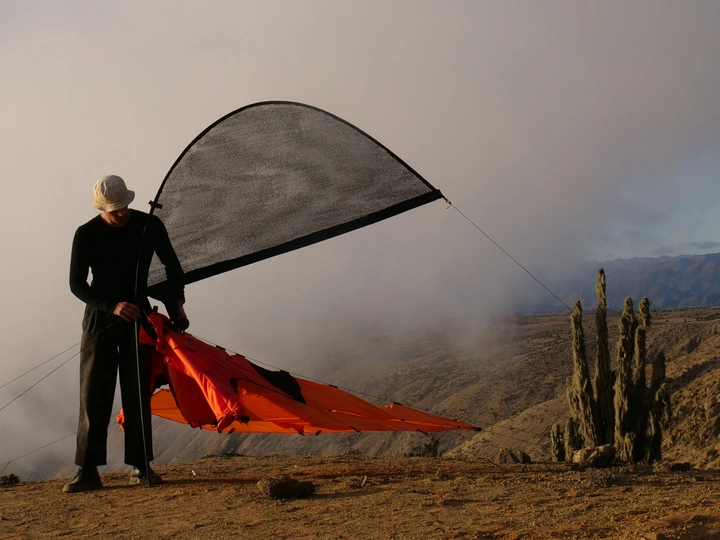 A jacket that catches fog and turns it into drinking water, even on the driest areas on the planet.
---
Pavels Hedström at Inxects Studio
Copenhagen, Denmark
Links
Team members
David Garcia
Pavels Hedström
Field of work
Architecture, Design, Urban planning, Landscape architecture, Ecology
Project category
Sustainable mobility
Project submitted
2023
Pavels Hedström is a Swedish architect based in Denmark, with an educational background in architecture and extreme environments. The core mission of Pavels work is to minimize the gap between humans and the rest of nature. Through his work, he explores how design can bridge the needs of humans with the intelligence of existing ecosystems. His work involves an interplay between science, art, biology and urgency.
In early 2023 Pavels left the corporate building industry to dedicate his focus on his studio Inxects. Being a winner of the Lexus design award 2023, he worked together with the world famous designers: Sumayya Vally, Yuri Suzuki, Marjan van Aubel and Joe Docet. Supported by the mentors Pavels developed a jacket that turns into a portable shelter, which is self-sufficient in generating drinking water from thin air in arid areas. In the spring of 2023 Pavels was represented in the Milan Design Week where he was voted by the public as the first winner to recieve the Lexus Your Choice Award. Furthermore, the architect's project the Inxect suit is nominated for the Index Project award 2023, also called "The Nobel Prize of Design '' which rewards radical design for a sustainable future. During the last 2 years Pavels work has been recognized by international media such as Designboom, Dezeen, PenMagazine and The New Yorker.
---
Fog-X is a project developed to target global water scarcity and privatization of fresh water. It is a wearable system that enables the user to hack into a dynamic water infrastructure - fog.
Fog-X jacket gives the user the ability to collect up to 10 litres of water each day. Even in the most arid areas on earth. With only a few steps of adjustments, the jacket can transform into a fog catching station that provides shelter for the user, while harvesting fog. The inflatable design of the jacket enables the user to be light and mobile in the landscape. Fog-X combines everyday objects with design that enables Individual users to take an active and intimate part of the ecosystem, while collecting the life sustaining resource water.
The Fog-X app informs the user of potential locations to catch fog, by utilizing real time weather data. The Fog-X app encourages the users to participate by sharing feedback whenever they have collected fog at given locations, the app envisions to establish a more democratized water infrastructure, in the regions where water is otherwise privatized.