Think Education Forward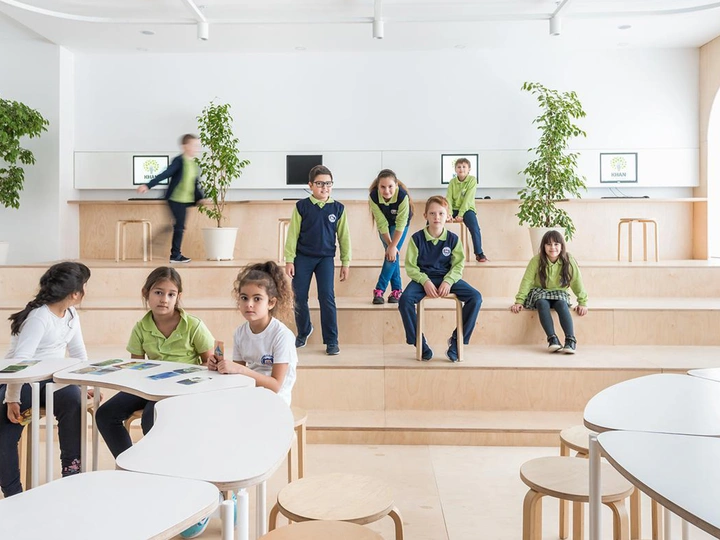 Transforming a 20th century school into a 21st century educational institution
---
Think Forward Lab
Burgas, Bulgaria
Links
Team members
Monika Marinova
Galina Milkova
Nedko Nikolov
Field of work
Architecture, Design
Project category
Renovation
Project submitted
2023
Think Forward is an interdisciplinary collective whose practice exceeds
architectural, interior and interactive design. We are excited by socio-ethical problems and their solutions by the means of art. So far we have
collaborated with forward-thinking private clients, non-government
organizations, municipalities, etc. However, it is our collaboration with one
particular public primary school in Bulgaria that fully depicts Think
Forward's social activist role and power to design social change.
---
Think Education Forward is a long-term strategic project for renovating "St.
St. Cyril and Methodius" school in the small town of Sveti Vlas, Bulgaria,
that started in 2015 and continues today. The project is funded solely by
the limited school budget, which allows us to realise only one project
stage each year. So far we have implemented six consecutive stages - "5
Rooms", "Out-of-School", "Demokratos", "New Infrastructures", "Sports Hall",
"ArtScience Centre" all of which address important issues regarding
Bulgarian educational system such as children hyperactivity, outdated
education methods, the limited children's freedom of
choice, childhood obesity, lack of project-based learning.
By the means of design the project offers universal solutions to painful
educational issues on a national level. The sustainability of the project lies
in its applicability in every single school in Bulgaria and its integrity with
innovative educational methodologies, thus ensuring a radical
improvement of Bulgarian education itself.
After years of successful collaboration with the school management
team, in 2022 we conducted a research showing the results of our efforts.
In 7 years the number of students grew from 136 to beyond 430. Today, students
enrolled in the school travel every day from nearby cities and villages to
attend "St. St. Cyril and Methodius" school. After completing "Demokratos" project stage in 2018 the school received an innovation status by the Ministry of
Education and Science, thus giving teachers freedom to use
unconventional educational methods. In 2020 "St. St. Cyril and
Methodius" school entered the Top 10 rank list of schools in the region, and
70% of the students were admitted to elite high schools. According to the
headmaster, one of the greatest achievements of Think Education
Forward project is the lack of a single case of violence after completing the very first "5 Rooms" in 2015.