Anti-Tank Obstacle Hedgehog – Kyiv Defender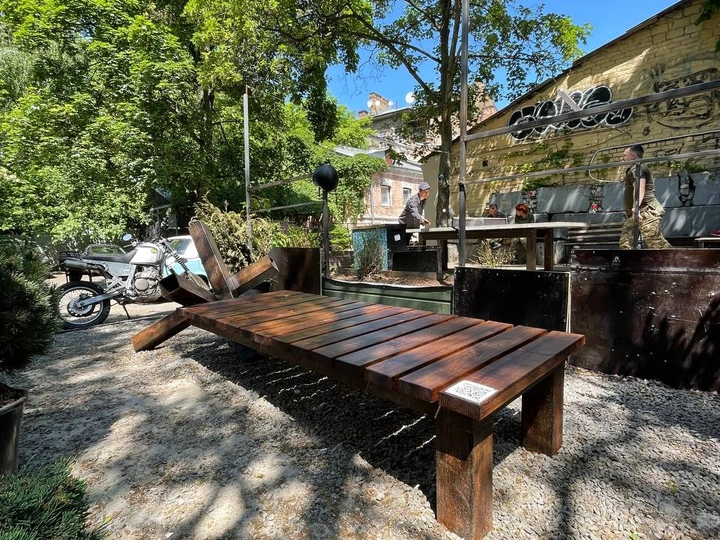 Transform anti-tank hedgehogs into urban art -> share with democracy world -> remind of the war and the culture power -> bring positive change.
---
Mihel Mazepa
Kyiv, Ukraine
Links
Team members
Sofia Bondar
Field of work
Design, Ecology, Curating, Communication, Other
Project category
Material tracking and reuse
Project submitted
2023
Bonjour, I'm Mihel Mazepa, a Ukrainian cultural curator based in Kyiv. I am passionate about promoting modern Ukrainian culture and I am a member of the Kosmos Tabir and Art-weapon culture collectives.
I curate projects like "ANTI-TANK OBSTACLE HEDGEHOG - KYIV DEFENDER" and "Art-armour", which manufacture anti-tank hedgehogs and bulletproof vests in response to the large-scale invasion and now turn them into urban art.
Together with others, I also co-organized the Ukrainian cultural festival "Art - Weapon!" in Berlin and Kyiv, showcasing Ukrainian art created during the full-scale war.
When I'm not curating, I put on my food engineer hat and create chocolate while launching industrial lines for Roshen Confectionery Corporation. Additionally, I am the founder of @grn.vlv, a company that creates upcycled bike bags.
In my free time, I like to unwind by playing music, indulging in extreme bicycle sports, and dabbling in amateur motosport (drift).
---
With the beginning of Russia's invasion, our cultural community of Kyiv musicians, artists, architects, decorators, designers and other cultural workers became civil resistance.
Artists began to create tank barriers ("hedgehogs") and bulletproof vests to make a small contribution to the resistance of our beloved city. We made about 300 hedgehogs and 2000 bulletproof vests, showing the world our resistance.
After Kyiv was successfully defended and the invaders withdrew from the region, we went back to what we do best: Creating culture.
Our project's mission is to upcycle anti-tank hedgehogs into useful architectural objects that serve three purposes: "art in urban use", "memory and warning", "obstacles for tanks."
The upcycled objects are designed to quickly transform into anti-tank hedgehogs if needed and can be installed in different Ukrainian and European cities as a symbol of resistance.
The symbolism of our project lies in the complex and painful process of war, which can have both negative and positive consequences. Even though war can lead to change and development, it is important to remember its terrible impact on people's lives and to strive for peace and conflict resolution.
The objects consist of anti-tank hedgehogs and a functional part, which defines the type of urban object, such as a bench, lantern, bicycle rack, or table
Placing the upcycled objects in European cities is an act of care, remembrance and solidarity with the Ukrainian people, while benefiting local citizens. At the same time, we want to share our experience and resources with others when it comes to defense and resilience. As an example of the expansion of the project beyond Ukraine, some of the upcycled benches were placed in Berlin, Germany; in Coutances, France; in Vienna, Austria.