Data Turbulences/Climate data shaping public space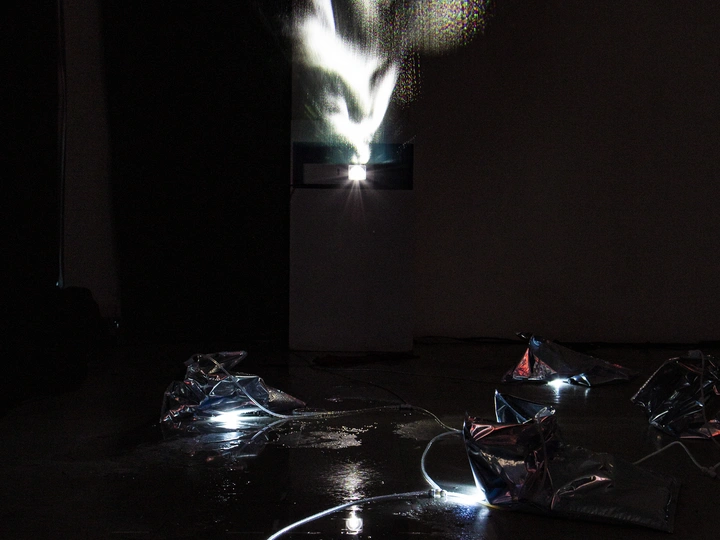 How climate data can liquefy,materialise and regenerate (in) public spaces: from Bits to Waves, redesigning the liquid mesh of reality.
---
Letizia Artioli
Venezia, IT/ Den Haag, NL
Links
Team members
Letizia Artioli
Eric Kluitenberg
Clemens Kusch
Ludovica Montecchio
Anne Wichmann
Field of work
Architecture, Ecology, Visual Art, Multimedia, Research
Project category
Raising awareness
Project submitted
2023
Letizia Artioli (Architect,PhD candidate) works at the intersection of architecture and data installations in public spaces, in between Venice and Den Haag, always below sea level.
Currently PhD candidate at IUAV University and MArtScience Interfaculty at KABK.By investigating the relationship between human beings and environmental data as a matter for research and creation, I work with void, ephemeral matters and liquid data in a non-extractive perspective. The projects' focus is to transform contemporary emptiness in anthropocenic public spaces through transdisciplinary raising awareness-tools for the climate changed present (future). I work between bits and atoms, with photons & ephemerity.
Previous works exhibitions include: Filling The Void@TheGreySpaceinThe Middle(NL),ARS ELECTRONICA 22; Milan Design Week D.O.S. 2023 &22, #MakesUsVisible NYC 2022, Laguna Festival 22&23, Ars Electronica Garden NYC 2021,MMMAD Madrid 21, LABA Valencia Augmented Worlds 22, DIVAGO Genova 21, CHEAP! Fest Bologna, Art for the Future Biennale, LaCapsula@BASE Milano.
Graduated at Ecole Nationale Superieure d'Architecture of Saint Etienne-ENSASE (France). I moved and worked from Barcelona's EMBT-Miralles Tagliabue to CDMX and Kochi, from Lyon to Den Haag, ranging below rising sea level and the need to find to approach the spatial matter in a non-exploiting designing act.
Founder of Venice Climate Change Pavilion project (EU4Ocean Award 2022, Culture & Arts category) , I am Youth4Ocean Forum Member and IOC UNESCO and EU4Ocean Lecturer in the field of Ocean Literacy transmedial awareness.
---
Data Turbolences investigates the relationship between human beings and environmental data as a matter for research and creation by entangling climate data and its inhabitants. Waving together the individual with the global, allowing us to understand how we are all intrinsically entangled on a molecular scale with the surrounding matter(s). Inspired by the drought in the Po Valley in Italy, where it has not rained for over 150 days, and later in less than 2 days the region was disruptively flooded (May 23). Data Turbolences creates an interactive human movement mellotron that entangles the data of moving bodies inside a nebulized projection. Based on CO2 satellite data, the projections interact as a particle system of light,revealing how our bodies, breaths and liquids are entangled with far-from-home data.How do we perceive our influence on and in space?The challenge is to further the way we tackle informations,at the crossover of bits and atoms.The aim is to develop what make climate debate tangible, embodied and embedded.Data are nebulized and liquefied as the new matter that shapes space.
We are inextricably linked to the landscape we inhabit as citizens as dendrites, as eco-systemic and non-ego-systemic beings.We are data turbolences.
Firstly shown as immersive installation,realized in May 23 in Den Haag at The Grey Space(NL).Based on 33 tracks of landscapes disappeared between 1993 and 2023,following a CO2 particle from her birth-extraction in Bahrain to a whale's dead body on Norway's coast. Positive feedback from the visitors showed how a multi-layered installation which combines sensors, IOT data and connects scales creates a way to decode the invisible layer of data that surrounds us.The projects holds the flexibility aiming to reveal the co-dependency of our dreams to the external/extreme phenomena,in this tension between scales,aerial and liquid, molecules and rivers,data and bodies, inhabitants shaping the space by being composers and being composed.