Hybri-space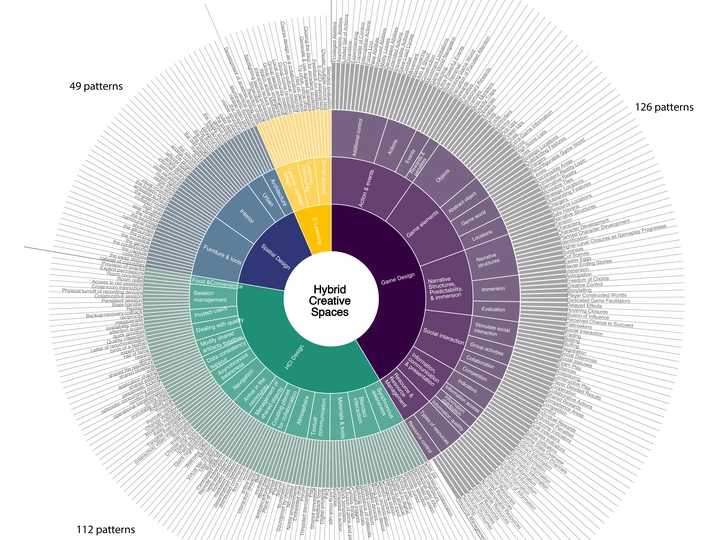 This project redefines creativity and proposes spatial design solutions to foster digital transformation and innovation.
---
Dan Zhu
Brussels, Belgium
Links
Team members
Dan Zhu
Field of work
Architecture, Design, Visual Art, Research
Project category
Renovation
Project submitted
2023
Dan Zhu is a Belgium-based researcher and media artist with a strong interest in pattern language and the junction of spatial design and Human-Computer-Interaction. She was trained in architecture at the University of Cincinnati. Her educational and professional background spans China, the USA, Belgium, and the UK. From 2021-2022, she was a project manager at GLUON Art & Research organization in Brussels, responsible for the proposal preparation of two Horizon Europe RIA Art & Technology projects (funded in 2022). Before that, she was an executive manager at Design Square of the College of Design and Innovation at Tongji University in Shanghai. She was also a guest editor and translator for ILAUD (International Laboratory of Architecture and Urban Design) 2023 special issue: Discontinuity in Contemporary Cities. Currently, Dan's Ph.D. research at Loughborough University (UK) focuses on the design of future hybrid creative spaces that facilitate collective creativity in educational institutions and organizations by using a pattern language approach.
Dan's recent publications include "An Analytical Framework for Designing Future Hybrid Creative Learning Spaces: A Pattern Approach" and "Environmental Design vs. Environmental Art Design: A Chinese Perspective".
---
The 'new normal' after the recent pandemic has caused a paradigm shift in the design of creative spaces, both in terms of physical presence and technology-enhanced possibilities. In light of these changes and developments, for both educational institutions and companies, the question is how to appropriately design future working and learning environments. It can be observed that future hybrid environments, integrating physical and virtual spaces are built and enabled by advanced digital technologies, including precursors of future metaverses. Existing frameworks that serve as a reference for the design of hybrid creative space have shown some limitations. On one hand, current spatial design theories concerned with hybrid spaces and digital technologies are limited; on the other hand, the experiments of digital technologies' influence on spaces conducted in Informatics and Computer Science research fields rarely use a spatial theory as a foundation.
To design future hybrid creative spaces, this ongoing research project aims to develop an HYBRI-SPACE framework that addresses design issues from both physical and digital spaces, as well as to use a pattern language approach to bring together useful design guidance and digital tools from different disciplines. Moreover, this project could grow into a network that continues to extend and evolve with the input of knowledge and experiences from experts. Based on current findings, 323 proto patterns collected from 4 disciplines have proven their validity in the original context, and combing them offers a huge potential for solving problems that might not easily be solved in isolation, which is also in line with the interdisciplinary approach encouraged by many architects and pattern language theorists.