simply—soul | eco-funeral hall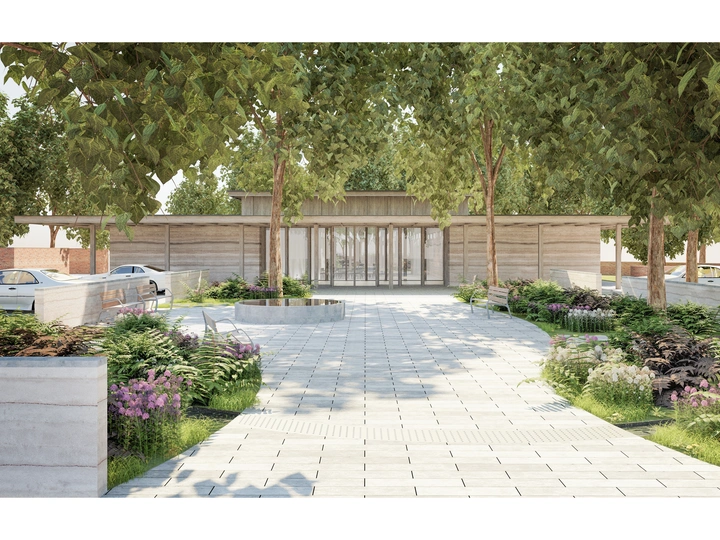 New funeral hall in Czech city Nove mesto na Morave (NMNM) made from local nature materials with zero carbon and sustainable solutions.
---
ateliér • tečka, www.tecka.city
Nove mesto na Morave (NMNM), Czechia
Links
Field of work
Architecture, Urban planning, Landscape architecture
Project category
Energy
Project submitted
2022
Our goal is good and functioning places for people. We are architects and urban planners. We connect with other experts and tailor a solution to every problem. We listen to client, go out into the field and talk to people. Come to us with a problem, we will find its cause and the most effective way to solve it together. Solving the city, village and countryside is a joy! We want it to be fun for us and you.
Urban and Architectural studio based in Prague (CZE). Tecka means a dot :)
---
Through the informal frontyard we penetrate to the formal house. The architecture does not try to arouse emotions and create pressure on the visitors of the ceremony. It is based on perfect operation without faux pas and a simple non-disruptive structure. It just tries to hug, soothe and not get in the way. Everyone's experience is individual, as is the choice of ceremony arrangement.
The body returns to the ground. The photograph of the deceased is projected in black and white on a wall made of pressed local clay, and the layering resembles the orthogneiss and migmatite on which the hall stands. The typology avoids association with a particular faith and at the same time integrates the principles of the main religions in our country.
SUSTAINABILITY
Emphasis is placed on local materials that save on transport. For minimal building volume, good operation and proper connections. Modules and spans enable good further use, modifications or breaking down the building into parts. Field work is also minimized thanks to planting in the existing condition. The overhangs of the roofs, which increase the durability of the facade, and the green roof, referring to the archetype of the mound and the green surroundings, protect against overheating. In winter, the house is heated thanks to the low-lying sun through the glass surfaces. Air conditioning with the possibility of cooling, heating and recuperation is divided into a large and a small auditorium and a preparation room. Photovoltaic panels are placed on the roof so that they do not disturb the simplicity of the building in any way. We use both gray and rainwater for reuse. From the point of view of social sustainability, we are trying to create a non-controversial building that will bring people together, create good memories and where the adjacent spaces will be used for reverent gathering - a place where people will like to return after visiting the cemetery to sit and discuss the memories of their loved ones.