V-REAL - Unraveling Virtual Housing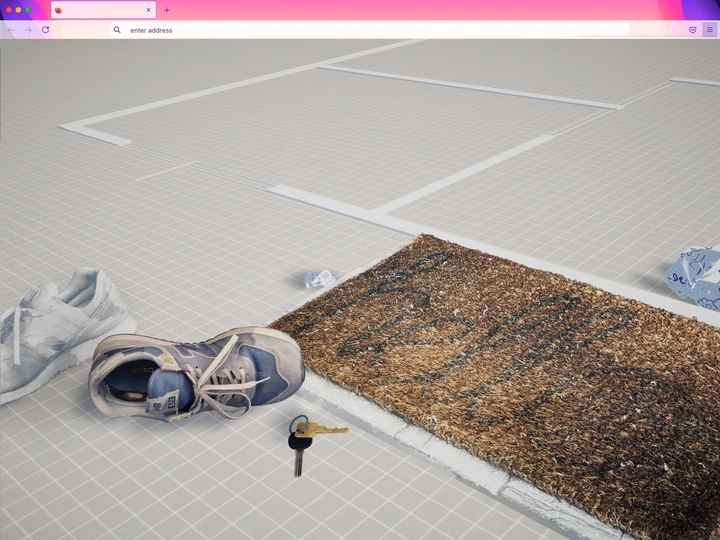 From Pixels to Politics: V-REAL unveils a thought-provoking exploration of virtual housing's future impact on politics and society.
---
Links
Team members
Uwe Brunner
Bettina Katja Lange
Dominic Schwab
Field of work
Architecture, Multimedia, Film, Research
Project category
Raising awareness
Project submitted
2023
Our collective SOAP (some online architecture practice) delves deeply into the realm of online environments and social media platforms. Our focus and captivation revolve around the exploration of space, its inception, inhabitation, and the interplay of political and social influences within digital domains. By uniting researchers and practitioners from diverse fields, including architecture, scenography, and new media arts, we strive to unlock alternate perspectives on the profound implications of virtual spaces in our contemporary society.
We passionately embrace a diverse range of time-based media, such as film, video games, theater, walking sims, extended reality formats, and other digital technologies, to visualize and stage our investigations. We are interested in the entanglement of documentary and fiction, in participatory approaches and in the construction of alternative forms of narration to communicate architectural ideas and speculations.
A fundamental pillar of SOAP is our dedication to educational initiatives. We actively foster and promote the exchange of architectural knowledge on a global scale, engaging with both institutional and non-institutional educational platforms.
---
You own an Email account, right? And I guess you are actively using Facebook, Instagram, Tik Tok or BeReal …You might even have a personal Home-page…BUT, have you ever thought of renting a virtual apartment?
V-REAL is a research project and thought experiment materialized in a docu-fictional machinima that speculates on a near future scenario where owning a virtual apartment and residing at a virtual address become essential prerequisites to participate in a political and social everyday life.
In an era where physical space, especially in cities, faces mounting scarcity and exclusivity due to neo-liberal market forces, it is imperative to reassess our relationship with our virtual spaces. As we progress in constructing the 'immersive internet' (metaverse), we strongly believe that the desire and importance for virtual housing will soon become an urgent matter with profound implications for all individuals. Thus the question will be: do we really want to echo the hegemonic real estate models we so foolishly established in the physical realm, or are we collectively seeking for alternatives?
The docu-fictional machinima V-REAL serves as a critical voice, portraying a meta-reality that unveils a potential future scenario of domestic living and virtual existence. Employing a research-based, didactic, and aesthetic approach, it compels the audience to ponder the urgent concerns of virtual housing while fostering active engagement in a form of virtual housing activism.
The idea for V-REAL originated from an ongoing study on the value of virtual housing and homemaking initiated in 2021. The research includes interviews with a virtual homemaker community, documentary footage of over 500 digital homes and domestic rituals captured on VRChat (popular spatial social media platform), and conversations with virtual real estate agents.
It is time to shed light on the topic of virtual housing to foster a meaningful debate within a wider public before it's too late!