Frantoio Sociale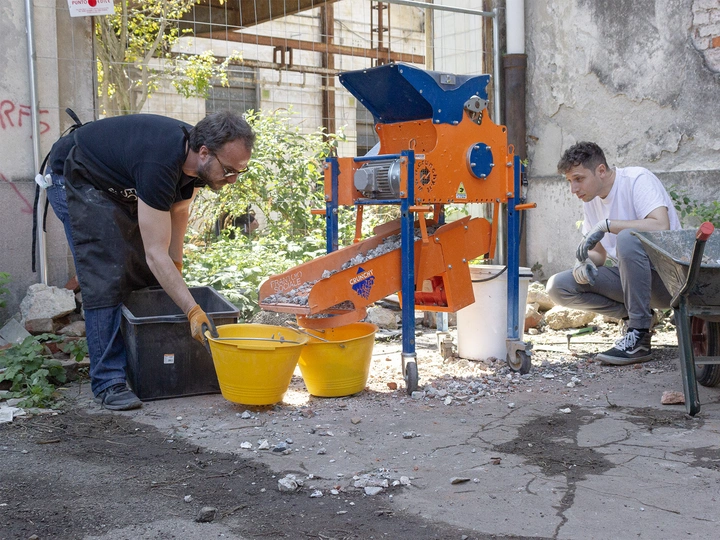 Frantoio Sociale is an investigation into the potential of demolition as a design field of action.
---
Studio GISTO / Hund Studio
Milano, Italy
Links
Team members
Ernesto Bellei
Federico Bergonzini
Alice Cazzolato
Antonio Di Cicco
Alessandro Mason
Field of work
Architecture, Design, Ecology, Research, Other
Project category
Material tracking and reuse
Project submitted
2023
Frantoio sociale is a research project ​​born in 2021 developed by Studio GISTO with Hund Studio.
Since 2010 Studio GISTO has been developing design and research projects working partially or entirely on all phases (design, development, realization), in collaboration with institutions, companies and other realities. The approach used pays attention to the resources present in the context, the sustainability of materials and circular development processes. The studio moves within a space that connects intellectual and manual work, creating a continuous dialogue between these two worlds.
Hund is a graphic and digital design studio established in 2020 in Milan. Its design practice is based on experimentation and an interdisciplinary approach that integrates new points of view into the creative process, promoting a continuous dialogue between physical media and digital spaces. Fundamental to hund is the constant research and updating of techniques and practices, in tune with the cultural-historical context, to develop ideas rooted in their historical context.
The team in fact consists of a multidisciplinary group of designers, makers, architects, activists and psychologists.
---
Frantoio Sociale is a research project that analyzes and experiments different methods and material transformation processes and promotes circular systems of retrieval and reuse of resources, in an area with a collaborative approach, to reflect on the current development system. The central and necessary tool for the development of the project is the transportable Crunchy Crusher machine, which can transform waste material into new raw material for a wide range of uses. The demolition process can be compared to a mill, where people work on the raw material from demolished buildings. It aims to maintain a social atmosphere by involving people in the process of processing materials from demolition. Frantoio Sociale aims to make demolition accessible for everyone, transforming it into a social practice open to participation and sharing. This approach to demolition not only reduces the environmental impact of extracting new raw materials, but also provides a unique opportunity for the creation of stronger social and community ties.
Frantoio Sociale has taken part and cooperated in several experimental projects over the years: in 2021, in Venice, as part of the exhibition 'Non-Extractive Architecture' and in 2022 during the Milan Design Week through workshops, exhibitions, talks and itinerant performances to explain demolition as a circular process to be exploited. In the 2023 Design Week in Milan Frantoio Sociale presented itself to the public as a meeting space to discuss circularity, material flows, waste, raw materials and much more. A cooperative working environment in which to explore different techniques for transforming and recovering materials found on the ALCOVA worksite to create objects, prototypes and new materials.