The Unfinished House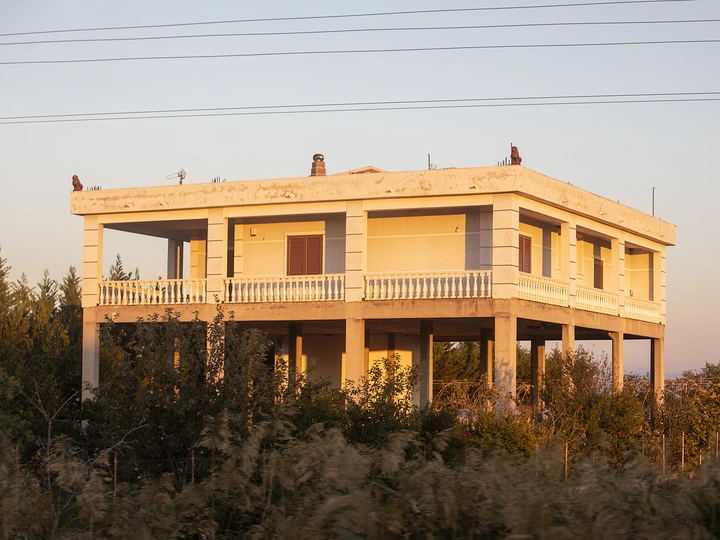 A photography series of unfinished houses, an architectural concept found in Albania and throughout the Balkan region.
---
Blerta Kambo
Tirana, Albania
Links
Team members
Blerta Kambo
Field of work
Visual Art, Multimedia, Film, Photography
Project category
Rural spaces
Project submitted
2023
I am an environmental engineering graduate turned photographer and filmmaker with 14 years of professional experience, which include covers and editorials for major magazines, specialised in various photography genres, including architecture, and working as the lead official photographer for the Albanian Prime Minister, and artist, Edi Rama. I was featured in many international publications including the Venice Biennial. I have been part in many group exhibition art shows, have been a key guest speaker at ETH, served as a jury member for photography competitions, and recently exhibited solo photography in London. I hold a Master of Arts in Film Making from the London Film School. I am passionate about visual arts and storytelling in its ability to engage socially, through photography and film.
My personal projects have a more conceptual approach: archives, fiction and multiple truths, ecofeminism, and space in the social narrative.
---
Exposed bricks, a reinforced concrete frame with steel beams poking out: these are houses that are incomplete, sometimes permanently unfinished.
They fill the landscape of Albania, scattered like fragments of untold stories.
In the wake of communism's fall in 1991, a unique form of anarchism and informality emerged, driven by people's hunger for private ownership. This unconventional expression of individuality found in the photographs represents the self-made architects' poetic peculiarities in a world that was once collectively ruled. Although often employed as a means to evade taxation, to me these houses form a mosaic of the region's history, each structure a canvas that captures the essence of dreams suspended in time. They embody a bitter-sweet hope for a different future.