Sustainable Job-Platform for the built environment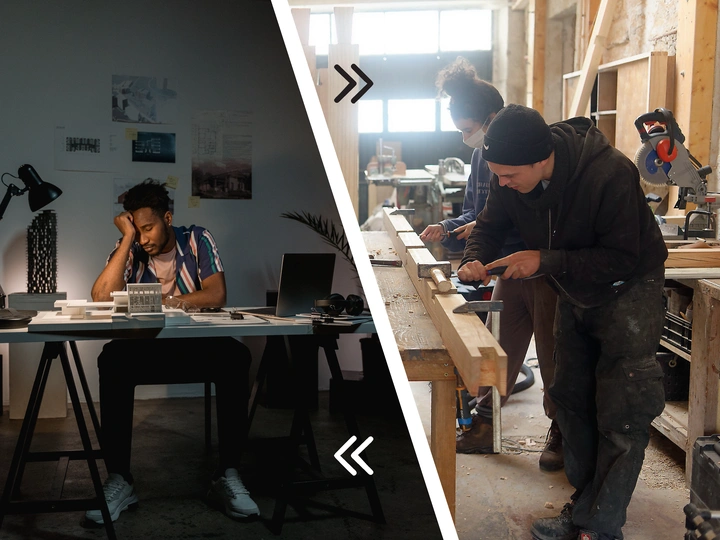 altceva_space is an independent digital job-platform that collects vacancies in the built environment sector that are serious about making a change.
---
altceva_space
Berlin, Germany & Esch-sur-Alzette, Luxembourg
Links
Team members
Vadim Bordiniuc
Melana Jäckels
Field of work
Curating, Communication, Other
Project category
Raising awareness
Project submitted
2022
Our backgrounds are in planning and economics, but we are always curious to learn and do new things. We have been working together at an association for sustainable architecture and besides gaining practical experience with sustainable and social renovation projects and building up a great network of relevant actors, we are particularly proud of two educational projects we have launched: a postgraduate programme for sustainable architecture and an online learning hub for sustainability topics.
---
altceva_space is a forum that collects hand-picked job offers dealing with the design of urban and rural living environments across Europe that seriously focus on the principles of sustainability and fairness – be it from the perspective of building, planning, culture, community, technology, education, art and beyond. We carefully check every job we find to ensure that sustainability is not just proclaimed as a timely buzzword, but that sustainability is at the core of the organization and the project. In order for job seekers to quickly see the jobs that are relevant to them, we categorize the listings by task, theme, location and type of employment. We focus on opportunities that are fun and challenging, mostly in non-profit organizations, associations, foundations, think tanks, research, culture, and education, but we generally do not list jobs at municipalities, big companies or large architectural studios. We are always on the lookout for organizations that do not think too strictly in terms of educational pathways but rather wish to find courageous and committed team members and which pay particular attention to meaningfulness, fair pay and a healthy work environment.
Going forward, we want to create a community and engage people and organizations by giving visibility to their projects, ideas, and demands, while developing formats that create exchange and connections to amplify the voice of a truly sustainable, disruptive, and honest movement that is changing the way we build and live.
altceva_space is completely free for everyone, whether you are a job seeker browsing jobs or an employer who wants to point out suitable vacancies. But: If you like our collection and think it is a helpful tool for you or for others, you can honor our efforts by making a voluntary payment. With this approach, we want to remain independent in deciding which jobs we post and which we don't, while staying advertising-free and free for those who cannot afford to pay anything.