A Visit to a Mine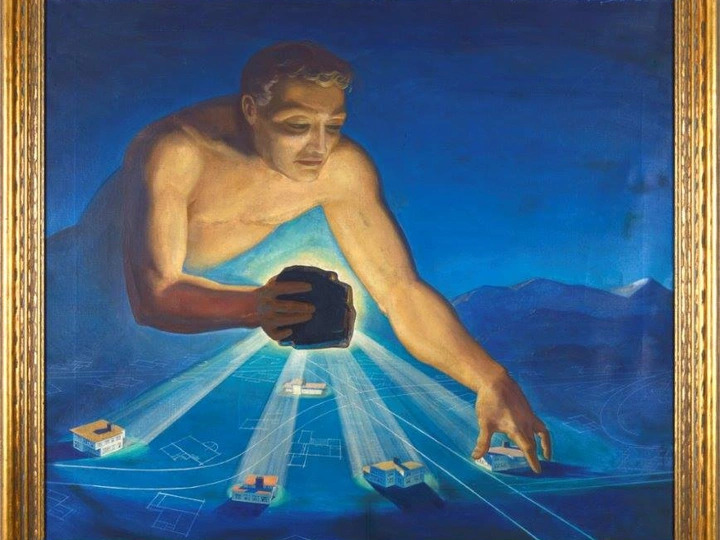 This project looks to understand the historical and current dimensions of mining sites through their artistic and cultural representations.
---
Mariam Elnozahy
Maastricht, Netherlands
Links
Field of work
Ecology, Visual Art, Curating, Research
Project category
Energy
Project submitted
2023
I am a curator, researcher, and writer with seven years of experience working in and out of arts institutions both in the Middle East and internationally. I have curated exhibitions in Cairo, Oslo, London, Uppsala, Amsterdam, Jeddah, and Basel exploring histories of globalization, development, and resource extraction. In my curatorial practice, I prioritize collective, collaborative work, and strive to support artists at various stages of conceptualization and production of artistic works.
I recently finished a Master's degree in Architectural History at the Massachusetts Institute of Technology, where I wrote a thesis on the relationship between the oil industry and cultural production entitled: Visualizing Oil in Aramco World Magazine: Public Relations and Corporate Photography from 1949-1960. Currently, at the Jan Van Eyck Academie in Maastricht, NL, I am working on a series of curatorial projects emerging from my research into the archive of the Royal Dutch Shell oil company, which belongs to my ongoing inquiries into art patronage, economic networks of cultural production, and the relationship between arts and extractive industries in the twentieth century. Alongside curator Rado Istok, I produced an exhibition series entitled "All That Is Solid Melts Into Water: Hydropower, Archeology, Indigeneity," at the Uppsala Art Museum, the Kunsthall Oslo, and the Intercultural Museum in Oslo. An accompanying publication exploring hydroelectric infrastructure and indigenous displacement in Northern Sápmi and the Nile River Valley will be released early next year.
My project, "Whose Open Society? Understanding Neoliberalism and the Economics of Artistic Production in the Middle East and former Eastern bloc" was presented at the Kunsthalle Wien, the Warsaw Biennale, UJazdowski, the Matter of Art Biennale, and Tranzit in Prague. Further, my writing has been published in Frieze Magazine, The Times Literary Supplement, The Markaz Review, Hyperallergic, and MadaMasr.
---
"A Visit to A Mine," after a short story of the same name by Franz Kafka, looks to understand the historical and current dimensions of mining sites through their artistic and cultural representations. Mine sites are primary loci of contestation in the age of the anthropocene, and are often microcosmic geographies of global and capital crises such as colonial exploits and anti-colonial efforts, resource wars, labor struggles, and environmental destruction.
My recent curatorial projects have been focused on energy and extractivism histories surrounding hydropower development and oil infrastructures. This opportunity will allow me to continue these broad research threads into the realm of mining.
Since time immemorial, humans have relied on resources extracted from the ground. Recently, an archeological team studying ancient mining sites in Wadi el-Hudi, Egypt from 2000 BCE found more than fifty inscriptions containing testimonials left by ancient miners and soldiers stationed to protect the mining sites that provide insight into how mines were constructed as intricate political systems. Almost four thousand years later, mining sites still operate as unique political systems where, oftentimes, the ills present in many of our socio-political structures today come to the surface. Our modern life is entirely reliant on the minerals and ores that we mine to create our energy systems, modern infrastructures, and everyday products. Despite their interdependency and interconnectivity, the geographies of our quotidian modern life and those of mining sites are considered distinct, especially for residents of urban metropoles where energy magically appears far from its source.
This project seeks to bring together archeologists, contemporary artists, historical artworks, and researchers in an exhibition and publication to explore the mine as a site of global capital encounters across different geographies from Navajo land to the Congo, Chile and Saudi Arabia.