Present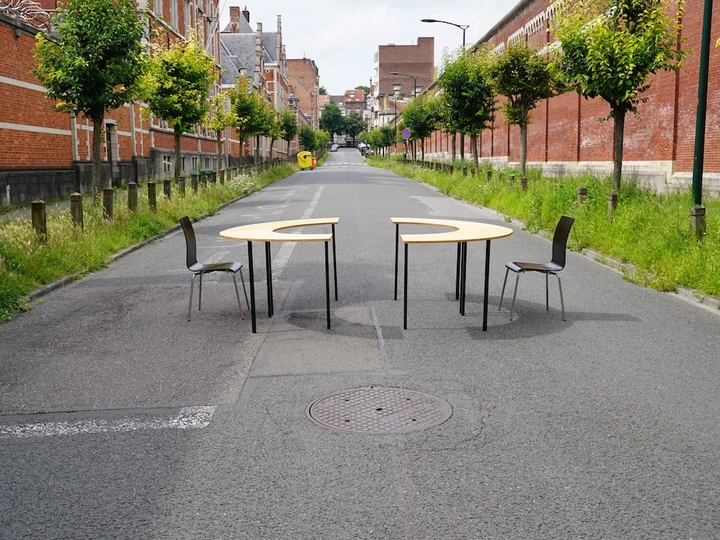 Present is an ongoing series of site-specific art interventions in cities, buildings, urban public space, and natural environments.
---
Kevin Trappeniers
Brussels, Belgium
Links
Team members
Elisa Demarre
Kevin Trappeniers
Field of work
Visual Art
Project category
Public space
Project submitted
2023
Kevin Trappeniers develops a stilled, visual, physical and often wordless artistic language in detailed, sensate work at the intersection of performing arts and visual arts. Trappeniers moves freely between disciplines, and mixes them together in interdisciplinary visual and performative work, both in theatres and more recently in the public space.
Minimalism constitutes Trappeniers from language. The medium is always chosen to suit the content. In terms of content, his work departs from and arrives at today's society via a poetic diversion. 
Landscape, body, light, slowness and silence translate themes such as isolation, communication and the relationship between man and nature in the space they occupy.
After his studies, Trappeniers started an internship with theatre company Abattoir Fermé, and as an autodidact he acquired knowledge and then made theater work himself as a director in a typical black box theater setting from 2014 to 2017 (shows: Selfed, Asymptote). 
In 2018, he created AntennA & Ellipsis. The project consists of a black box theater performance without human performers, and an installation in public space, respectively. In 2019, Trappeniers started a new research on the power of language. This research led to Field of View (2021), a music theatre performance.
---
"'City' meant two different things – one a physical place, the other a mentality compiled from perceptions, behaviours and beliefs." (Richard Sennett, Building and Dwelling: Ethics for the City)
---
The in situ installation Observatory (2020, still available for touring) heralded a dormant evolution (that started with AntennA) in Trappeniers' practice however, with the rise of more visual arts installations in public space.
 Observatory was the start to create in 2021 a series of in situ work with dramaturge Elisa Demarré: Present. This series of spatial work questions the Anthropocene, started in hometown Brussels, to now look for more international connections.
---
Present is an ongoing series of site-specific art interventions in cities, buildings, urban public spaces, and recently also in natural environments. The interventions often explore the notion of negative space: what becomes visible through the process of removing instead of adding? How do nothingness and absence offer the possibility of presence?
Present aims to offer renewed layers of identity to familiar spaces. It's a soft call to remain conscious of the spaces we inhabit as a community and as an individual as well as a careful gift to make us see known realities in a different light. Each action is an artistic visual commentary activating our imagination.
Present is documented, and is left to be discovered through wandering. It offers a momentum to stand still and resist the urge of constant mobility. A moment of stillness in the noise of contemporary life.
Through its actions, Present wants to feed the connections and echoes between the needs of the community, the needs of the individual within society, and the spaces we constructed to have those needs met.
---
A personal starting point is the artist being a carrier of 2 autoimmune diseases. He wonders why and how an organism attacks itself. Why does an unhealthy body not correctly recognize the needs? It attacks healthy cells because it incorrectly recognizes them as malicious invaders. How can a body confuse truth and falsehood? What is exceptional at the micro level (within a body) sometimes seems to be the norm at the macro level (human interaction). Our world seems to be behaving more and more like an organism that has an autoimmune disease. Solutions are complicated by conflicting discourses that try to divide and rule. Present therefore searches an art language that sets in motion a counter-movement: how can an organism reinforce itself? How can art question and strengthen social cohesion? Specific interest goes to using Ma (negative space), described as "emptiness full of possibilities".