The ROOM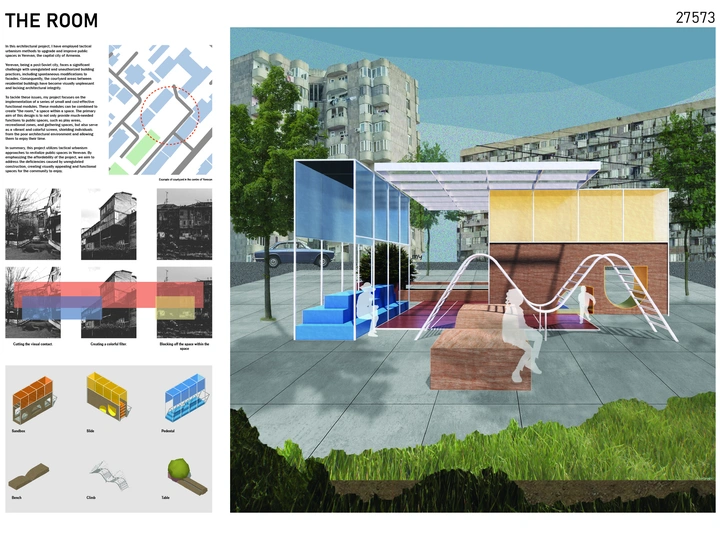 Bringing plaza to post USSR city.
---
Links
Team members
Misak Melkonyan
Field of work
Architecture, Design, Urban planning
Project category
Public space
Project submitted
2023
I am an independent architect, with experience in renovation, public space development, and urban public space rehabilitation. I am interested in bringing new ideas and senses to neglected spaces with the use of architecture and tactical urbanism.
---
In this architectural project, I have employed tactical urbanism methods to upgrade and improve public spaces in Yerevan, the capital city of Armenia.
Yerevan, being a post-Soviet city, faces a significant challenge with unregulated and unauthorized building practices, including spontaneous modifications to facades. Consequently, the courtyard areas between residential buildings have become visually unpleasant and lack architectural integrity.
To tackle these issues, my project focuses on the implementation of a series of small and cost-effective functional modules. These modules can be combined to create "the room," a space within a space. The primary aim of this design is to not only provide much-needed functions to public spaces, such as play areas, recreational zones, and gathering spaces but also serve as a vibrant and colorful screen, shielding individuals from the poor architectural environment and allowing them to enjoy their time.
In summary, this project utilizes tactical urbanism approaches to revitalize public spaces in Yerevan. By emphasizing the affordability of the project, we aim to address the deficiencies caused by unregulated construction, creating visually appealing and functional spaces for the community to enjoy.