MAA (Maarhuizen Archives of Architecture)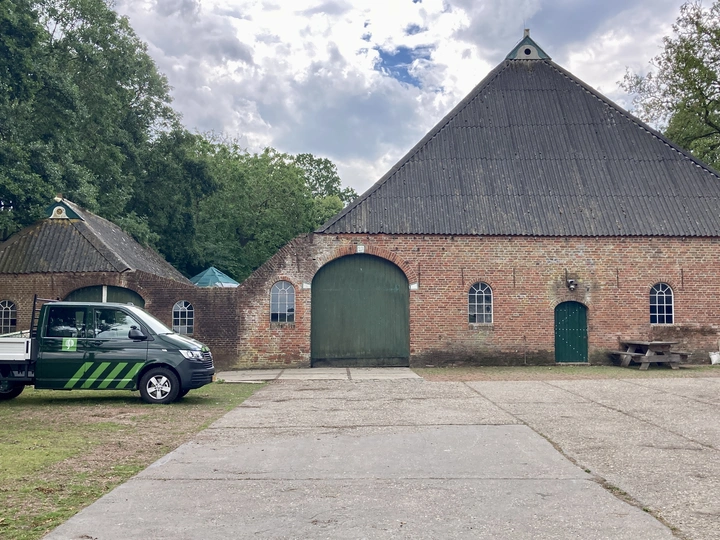 How do we grow, manufacture and apply materials to activate agricultural architectural heritage?
---
la-di-da
The Hague (Netherlands)
Links
Team members
Diederik de Koning
Carlo Maria Morsiani
Laura van Santen
Field of work
Architecture, Design
Project category
Rural spaces
Project submitted
2023
LA-DI-DA (2015, The Hague) is a studio for design & architecture led by Laura van Santen and Diederik de Koning. They aim to build ecologically in an economic way. This fascination with "eco-brutalism" leads to practical but unusual solutions for small-scale projects. They try to understand the entire construction process from raw material to product. In collaboration with various workshops, they conduct material experiments and develop new architectural products. They share this knowledge at several academies of design & architecture around the Netherlands.
Recent projects include several private houses, getting increasingly smaller and lighter as they progress. A house with barn won the Architectuur Prijs Achterhoek in 2017. Their A-frame house with atelier aimed at self-build was nominated for the Architectuur Prijs Almere 2022. The Dijkhuis in Strijensas, a lightweight timber frame on wooden piles won the Abe Bonnemaprijs for Young Architects in 2022. In 2022 they designed and managed the construction of a tiny house in Deventer, which is completely demountable.
In parallel, they developed new materials in workshops. In 2017 they developed 4000m2 textile at TextielLab Tilburg with Inside Outside for the LocHal Library. During a residency at the European Ceramic Work Center in 2019 a waste glaze tile was developed, produced by Cor Unum for a 50m2 wall in the New Shoe Museum Waalwijk. In 2021 they researched the patination of metal surfaces at MAKE Eindhoven, resulting in a permanent exhibition. Their 2021 PLATOWOOD design competition finalist entry introduced an alteration to the production method, making it possible to steam bend wood during thermal treatment.
Whilst teaching at the Royal Academy of Art The Hague, Laura curated the Design Lectorate exhibition of student work "Touching: A Research Method in Art and Design", resulting in a publication. Diederik is currently writing his PhD at Delft University of Technology on the architecture of the farm.
---
The Dutch State Forestry Department asked LA-DI-DA to think of ways to activate and renovate a former monastery farm in Maarhuizen (northeastern the Netherlands). Recently this agricultural architectural heritage was given back to them. For the past 50 years one man lived on the farm, beginning countless small interventions in the 1350m2 sites, never finishing any of the works he set out to do.
There is no finance, no function, just good intentions. There are many examples of such heritage in the Netherlands, and in all of Europe. They communicate a time when craft was connected to landscape. How much land determined how much grass or hay, how many cows, and thus the amount of space needed. A 'rule of thumb' timber frame constructed in local oak, a roof covered with reeds from the swampy surroundings, facades clad with bricks from iron rich clay of the north of the Netherlands.
Now it is a beautiful husk, a home to birds and small rodents. It is full of ambition, material experiments in cement and polyurethane, merging together in a kind of Frankenstein. So what of the future? How can we heal the building, without taking a toll on the environment, what do we add and subtract? Which layers of the onion do we peel? There are so many contemporary questions here that are relevant for practitioners and educators, this space offers a place of shared learning.
LA-DI-DA was involved as educators in the summer workshop Vignola Archives of Architecture in 2017, led by Carlo Maria Morsiani, with the aim of connecting architectural heritage with contemporary methods of manufacturing. In Maarhuizen, we also want to invite international practitioners and educators for workshops and residencies. We would like to connect with LINA fellows and members to exchange on starting such a program, to reconnect landscape to construction material to architectural typology. To have a dialogue with heritage. To plant, to grow, to harvest. To build prototypes and an archive. Together.