Cosmic Undergrounds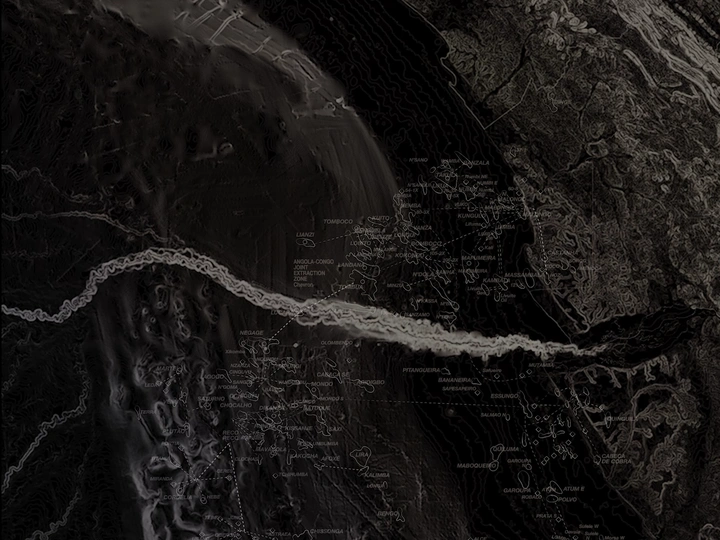 'Sedimentary Myths' traces the contours of resource extraction and its intricate relationships to colonialism's logic and landscapes.
---
Margarida Waco
Stockholm, Sweden; London, United Kingdom
Links
Team members
Margarida Waco
Field of work
Architecture, Ecology, Multimedia, Curating, Research
Project category
Energy
Project submitted
2023
Margarida Waco is a Cabindan-Danish architect whose practice mobilises architecture, ecology and politics through design, research, exhibitions, pedagogy, and writing. She holds an MA in Architecture from the Royal Danish Academy alongside a diploma in Sustainable Development from Sciences Po Paris and Journalism from Roskilde University. Margarida is an Associate Lecturer at the Royal College of Art in London where she directs and teaches Architectural Design Studio 8: Afterlives, as well as an advisor to The Funambulist, a bimestrial publication dedicated to the politics of space and bodies, where she served as Head of Strategic Outreach and Contributing Editor between 2018-2021.
She has previously held positions as researcher at the Royal Danish Academy, as curator at the Aarhus Architecture Festival, and as a practicing architect operating from offices in Paris, Copenhagen, and Stockholm. Her work has been exhibited and presented at La Biennale Architettura 2023, Palais de Tokyo (2022), Malmö Art Museum (2022), Nyansapo Afrofeminist Festival (2022), Chicago Architecture Biennial (2019), and the Royal Danish Academy (2019). Moreover, her writing has appeared in journals and outlets such as Afterall, Ellipses Journal of Creative Research, Archive of Forgetfulness, The Funambulist, arcspace.com, among others, and she is the co-author of Informal Horizons (Royal Danish Academy, 2019) and co-editor of The Funambulist Issue 32 'Pan-Africanism' (The Funambulist, 2020).
---
"To defend the Earth is the most efficient way of defending Mankind" (Amílcar Cabral, 1949)
The project critically investigates infrastructures of (resource) extraction and their effects on human, nonhuman and more-than-human bodies. It speaks to - and - of the dialectics between, on the one hand, systems of political economy and the devouring effects of capitalism and colonial cosmologies and on the other, the ecological bodies – which are evidently sites of, actors in, and witnesses to, political instrumentality, violence and resistance.
The project departs from my own exploration into such concepts and themes presented at La Biennale di Venezia 2023 under the category 'Food, Agriculture, and Climate Change', a series of exhibits aimed at deepening the relationship between climate change, land practices, and food production, curated by Lesley Lokko. The work materialised in a 3-channel audiovisual installation at Arsenale. 'Sedimentary Myths*' departs from the outset of ongoing research into Angola's fossil fuel industry - the largest on the African continent, yet will encompass a comparative study of more territories, placing such extractive practices into dialogue with contemporary landscapes of extraction and land struggles elsewhere (sites TBD).
The project will unfold as a material exploration of territorial transformations, the constituents associated with extractive practices, and such forces driving the ecological emergency at a planetary scale.
Moreover, the project will utilise a variety of spatial and temporal methodologies such as QGIS, investigative cartography, system mapping, archival research, photogrammetry and 3D scans to generate spatial knowledge that will be made available in open access.
*The project was initially submitted under the name Sedimentary Myths
Fellow