UPCYCLING TEMPORARY PAVILION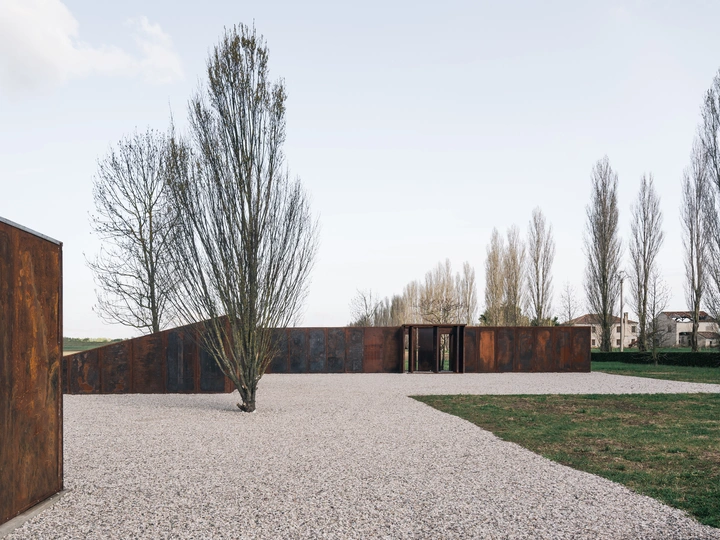 After the Biennale, the installation originally intended for the landfill was recovered, dismantled, cataloged, and redesigned as an open-air museum.
---
BARMAN ARCHITECTS
From Venice to Corbola (RO), Italy
Website
Facebook
Team members
Carlo Baldin
Giulio Mangano
Field of work
Architecture, Design, Landscape architecture
Project category
Circular economy
Project submitted
2022
Barman Architects is an architecture studio founded in Venice in 2017 by Roberta Bartolone and Giulio Mangano. We love taking care of architectural projects for the enhancement of existing and natural built heritage; urban development projects through temporary uses; projects at different detail scales; project opportunities through which to experiment all the balance between environmental and economic sustainability, aesthetic quality, and innovation.
---
STATE PRIOR TO THE WORKS
Every year in the world there takes place several temporary exhibitions related to the fields of art and architecture. Usually, the lifecycle of temporary structures goes from the preliminary idea to its demolition. Which is the problem? Temporary exhibitions produce tons of construction and demolition waste per year. The MePart program aimed to give new life to temporary installations and structures produced by major cultural events through a network platform to promote the transition towards a circular economy in line with the European Green Deal: that whole of political initiatives proposed by the European Commission with the general objective of achieving climate neutrality in Europe by 2050.
MePart deals with re-introducing waste from the installations of temporary exhibitions that took place in the historic center of Venice into urban regeneration programs aimed at improving the quality of the public space.
OBJECT OF THE INTERVENTION
In 2021 the pilot project of the MEPART program was completed. It regards the upcycling of the installation part of the four-part project, The Port and the Fall of Icarus, for the Dutch Pavilion Extended Program, 'Work, Body, Leisure' at the 16th International Architecture Exhibition, Biennale Architettura 2018.
Originally, the installation was outside the Giardini of Biennale area, placed in Riva dei Sette Martiri, a waterfront promenade that connects San Marco Square to Giardini. It is a rather large public installation. The entire installation is made of rusted metal sheets.
After the end of the Biennale, the installation that was originally intended for the landfill was recovered, dismantled, cataloged, and redesigned as an open-air museum in Corbola.
Although experimental, the case of the Dutch pavilion demonstrates how it is possible to find new articulations and ways of combining cultural production and development to generate sustainable growth dynamics for the territory.