Transitional Housing Unit - a sustainable shelter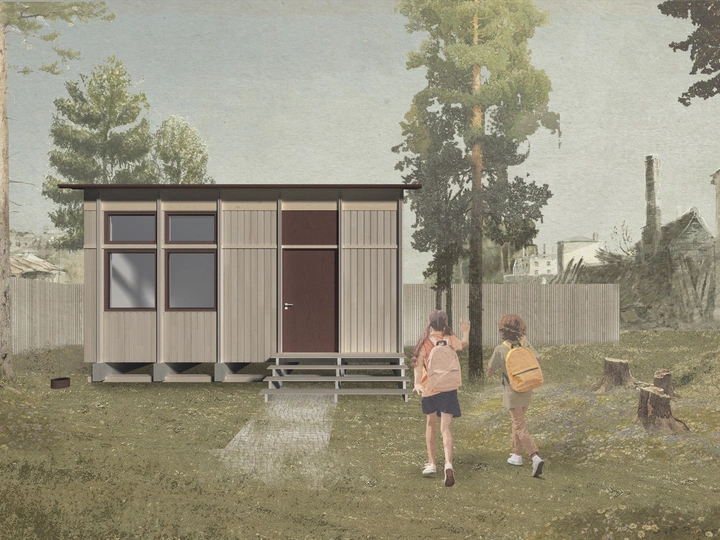 In crisis situations shelter solutions often lack strategic, long-term vision. Our project aims to provide a sensitive and sustainable housing design.
---
Project Safe Refuge
Delft, Netherlands
Links
Team members
Katarzyna Antoszyk
Chaitaly Deshpande
Julia Gospodinova
Olga Mazurek
Nadja Strikovic
Kristy Tong
Field of work
Architecture, Design, Engineering, Communication, Research
Project category
Raising awareness
Project submitted
2023
We are an international, bottom-up initiative bringing together architects and designers, working to re-think and re-design architectural solutions in refugee crisis situations. We are developing a 'Transitional Housing Unit' for Ukrainian refugees in Poland and those internally displaced in Ukraine. Project Safe Refuge (PSR) was started just after the war broke out in Ukraine in 2022 and for the past year we have been working remotely and in person on this initiative. The basis of our work were participatory workshops with Ukrainians in Poland, which informed our design. Our team developed a prototype of the project and we are now preparing to produce the pilot Unit in Poland or Ukraine.
Besides architectural projects, PSR is heavily involved in participatory research into community engagement in shelter and humanitarian design. We run a number of workshops for children, adults and design professionals from Ukraine and have another workshop planned for the Ukrainian academic community in Poland.
---
PSR was created shortly after the beginning of the war in Ukraine. It brings together young designers and architects committed to proposing systemic solutions in response to the humanitarian crisis in the countries hosting refugees.
Our work revolves around shelter design. Existing shelter solutions rarely take into account psychological, social and cultural needs. That's why we decided to put users in the centre of the process and through participatory workshops with various age groups, we came up with the Transitional Housing Unit. In the current humanitarian crises, we need to propose transitional design adequate to host refugees for a longer time and achieve environmental, social and economic sustainability. Our Unit uses modular, timber off-site construction which reduces the build time, ensuring more precision and ease that allows future users to take part in the building process. Thanks to its standardised, compact dimensions, the amount of material waste is minimised. The unit acts as housing for those taking part in the rebuilding efforts or those needing urgent shelter but, when no longer necessary, it can be easily transported to another location. If the community wishes to keep the Unit but doesn't require housing, the flexible design makes it possible to repurpose it for other functions, ex. office, small library, etc.
To make the structure sustainable from the economic point of view, PSR proposes solutions for clusters of units and checks which other facilities like workspaces, education or community buildings are needed. We want to provide designer assistance not only in proposing housing design but also in creating sustainable neighbourhoods. Our team built a prototype of the Unit, which provided valuable information and helped to improve the technical design of the structure. We want to make sure that our work really serves the community, so we continuously seek feedback from potential users and are now preparing to implement a pilot Unit on site.