Inhabit Folly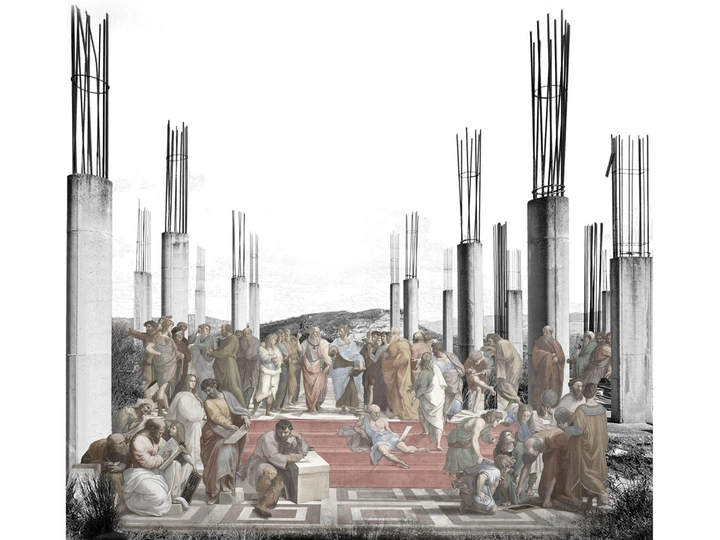 The project intends to present a possible future for an architecture paradox that is Incompiuto: buildings that were born already dead.
---
Francesca Petta
Sicily, IT
Links
Field of work
Architecture, Design
Project category
Renovation
Project submitted
2022
My journey as an architect started with my academic background in Italy, where I studied Classical High School, I have always been passionate about history and literature, believing that every project has to look at the future by combining past, present and a good narrative.
I hold an architecture degree from The University of Strathclyde, UK.
I have worked on a wide range of projects in the Netherlands and in Scotland especially in conservation projects.
---
Unfinished public buildings in Italy have been called many things and they are generally looked at with scorn by the public eye and every so often demolished.
However, it is undeniable that over the years they have acquired a new value, also becoming the focus of many studies, like the one from Alteration Video in 2018 that can be considered as the most important by calling this phenomenon as a "style" because it is so widespread in the Italian territory.
Sicily is the region with the most unfinished public structures, and naturally the following question arises: what to do with hundreds of unfinished buildings?
Now more than ever this question in essential in the field of architecture because of the impact that it has on the environment and on society.
Some have argued the best option is to complete them (often not possible because of missing funds), others would like to see them demolished.
But before considering the future of these structures it is crucial to appreciate and study the architectural and cultural value that they gain in the territory, which, in this study, has led to a traditional conservation approach.
Inhabit Folly offers a new narrative to the unfinished public structures in Sicily by rethinking a new way to use these structures and give them back to the public.
The objective is not to complete the structures or necessarily have the same function as they were designed for. Instead, it tries to reactivate the surrounding area leaves the structure with minimal addition to be inhabited by the people.
The new interventions are designed for the local community, to be used on a daily basis as a gathering space and as a place that encourages political and social discussion.
It finally changes the course of these structures that never saw human trace in it and it also covers an environmental problem, while understanding that they could not be completed, but they could be used in other ways and forms.