Living Summer School 2023 : Living Makeshifts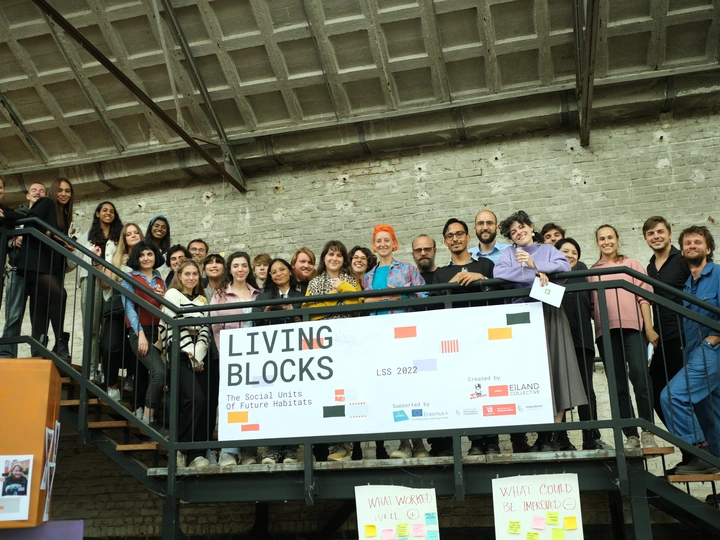 In September 2023, during a yearly territorial innovation summer school, 35 students will explore alternative methods for the production of space.
---
Living Summer School
Kortrijk, Belgium.
Links
Team members
Ruben Benoit
Elise D'haeseleer
Elena Falomo
Manon Lambeens
Field of work
Design, Ecology, Research
Project category
Raising awareness
Project submitted
2022
Ruben Benoit: founder of Bolwerk, a cultural free port that focuses on creation, encounter, wonder and ecology.
Elena Falomo: Teacher / Research Designer, in 2022 she has worked with Ars Electronica, V&A museum and BFI, and the Goethe Institute.
Jadd Hallaj: Architect / Cartographer, founder of an urban planning consultancy for sustainable urban development in conflict regions
Elise D'haeseleer : project manager at Start@K, an organisation that supports entrepreneurial students in Kortrijk.
---
The Living Summer School (LSS) is a free yearly week-long para-academic program focused on territorial innovation. Young creatives, designers, and entrepreneurs collaborate with a network of local partners and experts. Together, they envision social impact concepts and design prototypes addressing relevant local territorial challenges.
We believe in the importance of confronting young practitioners with complexity and system-centric approaches. This is reflected both in the content and the educational format which embraces emergence as its core value.
Each year we choose themes within general global trends and link them to hyper local case studies. This allows us to address challenges at a local level, but with global impact. The outcomes are prototypes, service blueprints and artistic interventions co-created by students and partners, that analyse the complex and systematic challenges they were being confronted with.
Bolwerk, the cultural free port that hosts the LSS every year, has been under construction for the last 10 years but has remained open to the public and has been hosting meaningful activities for local communities. In order to do so, it has explored different methods for community lead construction, art and cultural creation. Next year, we would like to build off of this exceptional architectural practice.
In fact, in 2023 we will focus on the production of space, and invite more than 25 international students to work on new approaches to construction. We will inhabit different building sites across the territory and question our current methods in constructing, maintaining and deconstructing the spaces that surround us.
Our initiative is growing. The LSS became an Erasmus + project in 2022, and joined the New European Bauhaus Network of Transformation of Places of Learning. Join us in creating this unique educational experience and bring meaningful change to the region!