I asked them to design a home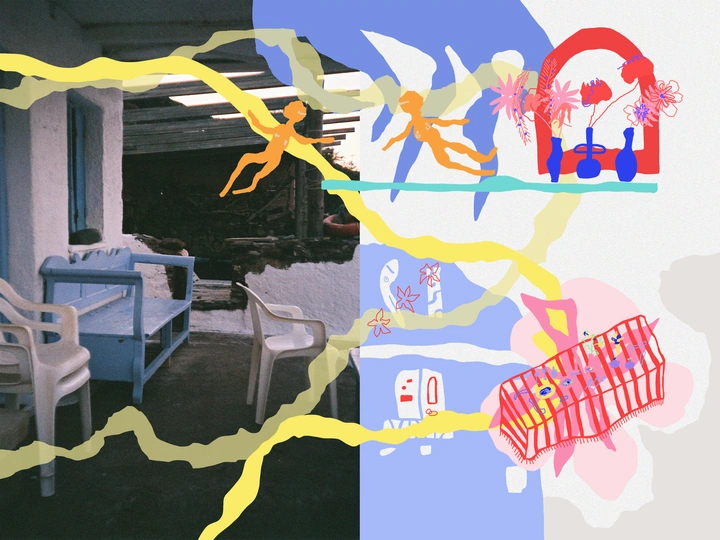 In the context of converging crises and emerging alternatives regarding the design possibilities, the question of a safe domestic space is pressing.
---
Practice Common Ground
The Hague, The Netherlands
Links
Team members
Ilaria Palmieri
Georgina Pantazopoulou
Field of work
Architecture, Design, Research
Project category
Raising awareness
Project submitted
2023
Common Ground Practice is a design and research duo based in The Hague, Netherlands. Georgina Pantazopoulou and Ilaria Palmieri met during their Master's program ( Interior Architecture) at the Royal Academy of Art in The Hague. Their shared goal is to create a safe space for marginalised communities, including minorities, refugees, feminists, and de-colonialists, with the aim of establishing a new dominant memory towards the spatial practice. Common Ground works with inclusivity, care, solidarity and imagination to bring an intersectional approach to the spatial discipline. Based on the empirical accounts of lived experience, Common Ground wants to set new principles to rethink and redesign hostile living conditions. We believe this practice can show a way to use design as a tool for more equal interactions. Not only as an outcome but also during the design process. To teach and to learn from each other.
Ilaria Palmieri is a researcher, designer and educator. Her work combines social design and participatory practices to address challenging living conditions. In the last months she has been involved as research assistant at V8 Architects in Rotterdam in "Mapping the mental metabolism of the Venice Architecture Biennale" along with being a teacher assistant at the Master Interior Architecture in the Royal Academy of Art.
Georgina Pantazopoulou is an artist, architect, designer and researcher currently living and working in The Netherlands. Her practice stems from observations of domestic realms and aims to question and reinvent the levels of familiarity, creativity, and imagination for more equal and inclusive interactions with it, using the design and artistic practice as a soft power. She is currently a PhD candidate at the University of Antwerp in the Design Sciences Department.
Common Ground Practice has exhibited and collaborated with various organisations including Dutch Design Week, Salone del Mobile, and Athens Digital Art Festival,among others.
---
'They asked me to design a house, I asked them to design a home' is a publication project, part of a long-term design and research practice that stems from the observations of domestic realms, aiming to question and reinvent the levels of familiarity, creativity and imagination using the design practice as a soft power for more equal and inclusive interactions. Considering that most of our current architecture is still rooted in older spatial imaginaries reminiscent of the Vitruvian or modular body, the creation of a new design system based on an intersectional feminist approach is vital. Architects and designers are responsible to restart the conversation about the role of domesticity as a space that emphasises the social, critical, political aspect of it and certainly serves the needs of the individual.
This ongoing project gathers fifteen contributions. Among them we present essays, design practices, workshops and conversations. Since we started Common Ground we have met a broad range of emerging practitioners that enriched our visions and surely helped us confront the challenges at stake. A young generation of designers, artists, architects, activists, theoreticians is part of this project aiming to create alternative perspectives regarding our domestic lives.
We are currently translating the gathered material, combining it with our research and works to develop an interdisciplinary method of approaching the domestic realm. Our hope is that we can provide the next generation of architects, designers but also users with new pedagogical inclusive processes to read, learn and finally design the future of homes. Workshops, participatory lectures and performative exhibitions are part of the multidisciplinary approach that guides the presentation of the publication. This publication can cultivate a community testing alternative educational frameworks whereas the spatial discipline is aware of the lines of race, age, gender, cultural and geographical background.