Cacao Eco Village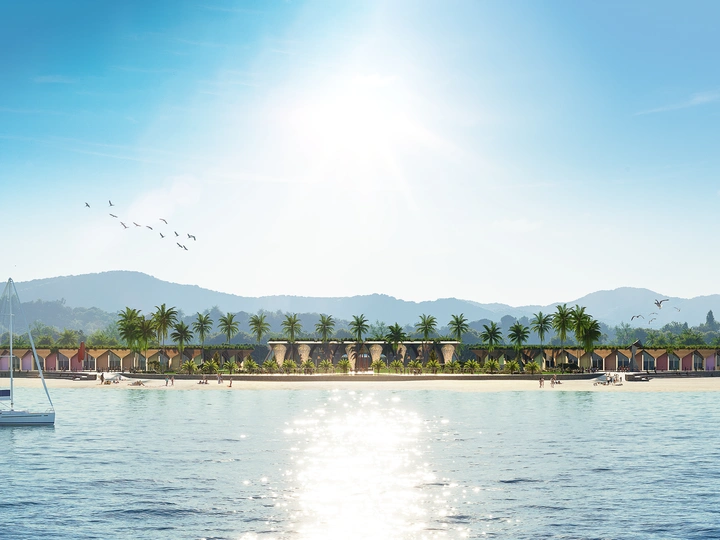 Valentino Gareri Atelier designs village made from 3D-printed cacao waste
---
Valentino Gareri Atelier
Pedernales, Ecuador
Links
Field of work
Architecture, Design, Urban planning
Project category
Material tracking and reuse
Project submitted
2022
Valentino Gareri Atelier is a Sydney based architectural practice and currently involved in several projects throughout the world.
Our architecture emerges out of a careful analysis of how contemporary life constantly evolves and changes. In our projects, we carefully consider local constraints, climate and sustainable aspects, local traditions and relationship with the surrounding context to provide, with our design proposal, the answer that performs best in that specific site of the planet.
---
Valentino Gareri Atelier has designed for Ecuadorian chocolate manufacturer MUZE Cacao and nonprofit organization Avanti the first of a global network of sustainable and smart villages; a carbon-neutral destination and innovation center for circular economy in the cacao industry.
The Cacao Ecovillage will be built in Pedernales, a county in the coastal province of Manabi, Ecuador, where the cacao farmers and families work and live. Construction will begin in 2022. This beachside destination - by the middle of the world - is known for its unspoiled panoramic beaches with great year-long weather, archeology, folklore, and an outstanding culinary tradition.
''We have pushed the circular economy core principles so much that they informed the design philosophy of the entire project. The cacao waste, result of the chocolate production process, will be re-utilized for 3d-printing parts of the village. Waste is not only turned into a resource, but into architecture. In the not-too-distant future, we will be able to design buildings entirely made of natural materials and recycle them at the end of their life cycle in order either to create new ones, or to return them back to nature''. (Valentino Gareri)

This new asset class of sustainable and smart infrastructure emerges as a solution for the environmental and social impact of the cacao industry, using a circular economy model as a creative solution for reducing environmental footprint, generating increased income, reducing resource dependency and minimizing waste.

Cacao Ecovillage will be the 'Silicon Valley' for circular economy innovators; a space for inventions and a testing ground for AgTech, FinTech, FoodTech, startups, and companies; manufacturers, producers and researchers. A destination and co-living space for change-makers to connect, co-create, get inspired, and ignite social impact.