There is the place for me / There is my place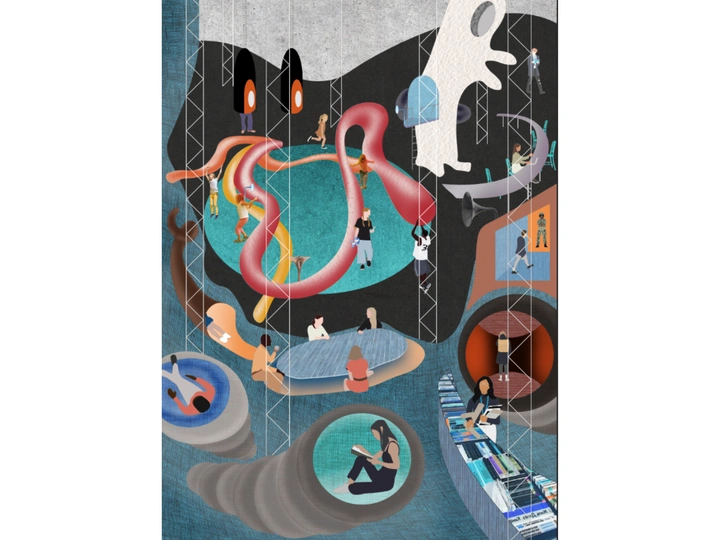 Our idea is to create in a modern city the places for young adults, special spaces for them where to communicate, to create or to stay alone.
---
Architectural bureau "Four +"
Belgrade, Serbia
Links
Team members
Bella Filatova
Anna Mayorova
Olga Paramonova
Alina Rachmatulina
Anna Rodionova
Anastasiya Rychkova
Vladimir Rzhevkin
Valeriya Saymova
Olga Solodukhina
Alexandra Tchertkova
Field of work
Architecture, Urban planning, Landscape architecture, Curating, Research
Project category
Public space
Project submitted
2023
We are four women-architects, and we founded an architectural start-up based in Belgrade. Our team has more than 10 years' experience in urbanism, promotion of children's rights and interests in the city and public spaces. We have created dozens of projects of kid's spaces and multidisciplinary projects at the junction of architecture, participatory planning and education. We have elaborated our own methodology for the design of playgrounds and written educational programs about participatory design and integrated approach to the making of public spaces.
In 2022 in collaboration with "Atelier PRO" we became the winners of the international competition for an architectural and urban planning concept for the Letovo non-state educational center in Moscow.
As "Four+" team we participated in Competition for the conceptual urban-architectural solution of the center for the acceptance of CITES-listed animals and the ZOO with the associated contact zone in Berane and took 4th place.
We also have designed "The Cube", a playground in the commercial center Hawthorn Mall in Chicago. The main idea of this space is to be a place for communication between children and their parents.
---
The city is becoming a human-friendly environment: parks, public areas, thoughtful children's spaces are appearing. But teenagers are still invisible. They gather in porches or on playgrounds, incurring the wrath of neighbours and leaving graffiti-painted walls. What can we do for them? How to make young adults feel included in the city life and not remain there as useless strangers?
Communication: I have a place to meet my friends.
The urban environment should have "collection points" for teenagers - semi-private areas where they can freely communicate without disturbing the peace of other residents, places where teenagers could be separate from adults and children, but which do not attract marginal situations.
Privacy: I have a place to stay alone.
The frequent request of young adults is a place where they can relax, listen to music or do nothing. It seems that teenagers love everything noisy and bright, but they need green areas and beautiful views that bring peace and tranquillity.
Design: I like it here.
Teenagers are very sensitive to how a space looks. They have a much greater need than children or adults for a unique, photogenic environment. They perceive a place as their own if it is modern and cool. In this sense, designing for teenagers is a real challenge for an architect.
Comfort: I'm comfortable here.
The urban infrastructure should provide places where teenagers could warm up, take shelter from the rain, eat, and drink water. It can be a cafe with inexpensive food or all-season spaces for communication with canopies.
Apartness: we are not children.
Teenagers fundamentally do not want to be associated with children, so urban spaces for young adults should be separated from playgrounds.
Self-expression: my interests are important.
The basic child need for self-expression becomes the leading one for teenagers. It is important to design places where representatives of different subcultures meet, spaces that teenagers can legally paint.