Decline of social individualism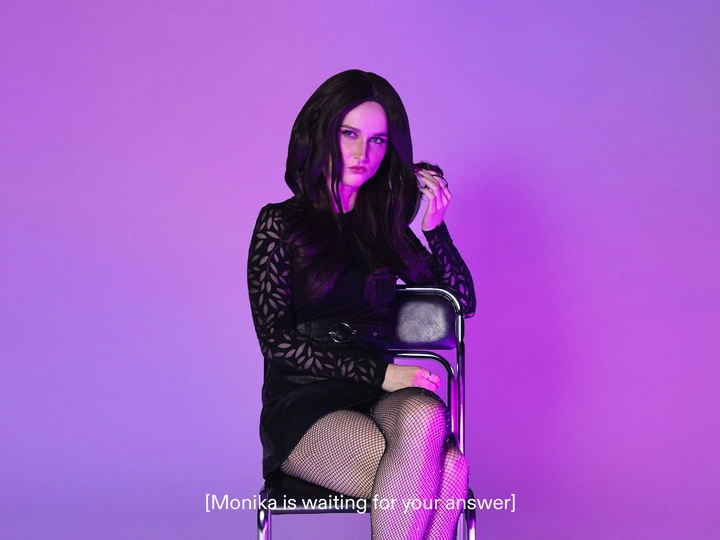 The decline of interpersonal relationships and alienation among people becomes apparent, influenced by communication channels and media.
---
Elena Kanarskaite
Vilnius, Lithuania
Links
Team members
Elena Kanarskaite
Field of work
Multimedia
Project category
Raising awareness
Project submitted
2023
I am a multidisciplinary graphic designer and creator. I work as a freelance graphic designer and also undertake personal projects. This year, I completed my Master's studies in Visual Communication Design at Vilnius Academy of Arts.
In my Master's thesis, I explored the aspect of the decay of social individualism in visual communication, examining how various media and communication channels promote alienation among people and shape new rules. Through an artistic research conducted on Tinder dating app, I revealed how people react to different social models, how synthetic individualism and communication patterns are created, and their impact on individuals.
Interpersonal relationships and human beings themselves become the primary source of inspiration in my work. I often draw inspiration from the environment I am in, and philosophy also plays a significant role.
The fusion of space and sound synergy is essential in my creations. Emotion and the feeling that the viewer takes away after experiencing the space are crucial aspects. I focus on addressing challenging social themes that touch many of us, such as fading relationships, human commodification, internal traumas, fears, etc.
Key career achievements:
Young Designer Award winner in 2021 with an interactive installation.
Participation in the ENTER Arts Festival in 2022.
Bronze award winner in the IDA Awards in 2022 with an installation.
Speaker at the Pictoplasma Petchakutcha stage in 2022.
Master's thesis exhibition 'Desire Machine' in 2023."
---
The phenomenon of the decline of social individuality is multifaceted and encompasses a huge part of life. Stereotypes of appearance and behavior are formed, and those who do not conform to them experience anomie and estrangement in relation to those who do conform. The communication channels examined in this work propagate manipulative nature, conveying how more vulnerable consumers become lost between real and simulated information. The metaphor of Lacan's mirror created in this context promotes anomie and is one of the identifiers of increasing psychological disorders and interpersonal estrangement. The increasing formation of synthetic individuality and growing spread of communication channels also encompasses romantic relationships, where partner capital is accumulated and synthetic communication is promoted on dating apps. Artistic research carried out on the Tinder dating app showed how people are affected by appearance and communication models. During the research, the phenomenon of reification – the objectification of humans, and the idea that many people try to eliminate their own flaws when presenting themselves on dating portals in order to attract more potential partners – was also conveyed. The desire to collect as many partners as possible conveys a discourse of consumerism. The paradoxical phenomenon of choosing a partner becomes a choice of ecology – where a person, due to the excessive abundance of options, ultimately does not choose any option. The cult of consumption and objects also promotes a growing narcissistic attitude and the emergence of depressive hedonism, where one wants to engage only in pleasurable activities.
Individualism, individualization, depressive hedonism, anomie, reification, choice ecology, and estrangement – all of these terms are aspects of the decline of social individuality, which are examined in this work from the perspectives of communication and design.