House in the Orchard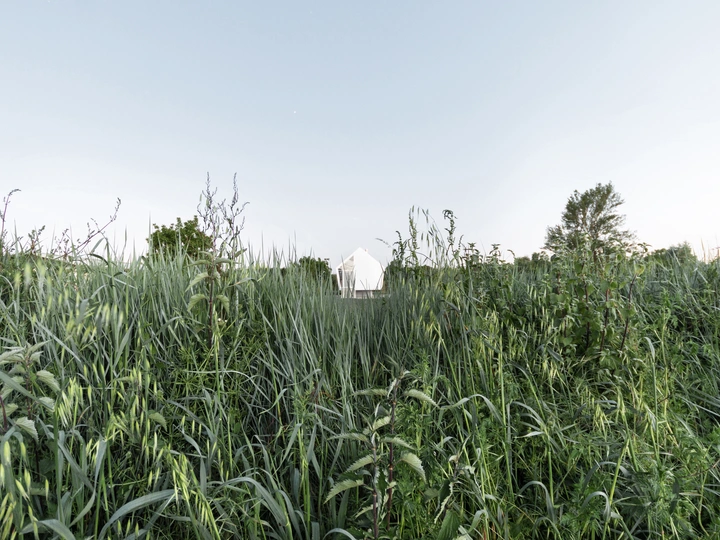 In this project, shape is not context, is not reinterpretation of tradition and not even search for lost figurative relationships.
---
LDA.iMdA architects
San Miniato, Italy
Links
Team members
Paolo Posarelli
Field of work
Architecture, Urban planning
Project category
Rural spaces
Project submitted
2023
"Changing time, changing places, changing ideas" we are IT-based architects, designers, inventors
---
LDA.iMdA architects was founded in 2003. They won contests and awards such as the Project for a school in Rosignano Marittimo, #scuoleinnovative in Aviano area, Project for suburban areas in Prato, Project for a bathing lake in Sasso Pisano, a project for a bridge over the Arno River, another for a school complex in Caraglio, the Pisa 2007 Client Award, the BIGSEE Interior Design Award 2018 and the BIGSEE Architecture Award 2019 granted by Zavod Big (South-East Europe). LDA.iMdA also received an honorable mention at The Plan Award 2017 with Casa Verde Project, two mentions at Premio Architettura Toscana 2017 and the "Design for All" award at Dedalo Minosse International Prize 2017.
LDA.iMdA have been invited to exhibit their works in various universities and published in books and magazines
---
The project we present is part of the research we are currentrly investigating for: how the figurative synthesis of an architecture is often recurrent in the architect's work, and how it can be an important element of investigation in finding answers or models for a contemporary fluid and dynamic society.
---
In its various forms to live in a private house can express the desire to get back to a lost dimension.
In this project, shape is not context, is not reinterpretation of tradition and not even search for lost figurative relationships.
We want to fix the aspiration of a client's hobby: to cultivate a vegetable garden, and we made it with a pure external form. This form owes its origin from the ancestral child's drawing of a house. The aim precedes the practice to put contemporary architecture in fragile territorial context in order to reactivate new potential relationships. This statement of "la casa nell'orto" project contains all the energies that the clients put into this realization, with particular regards to innovative choices:
1. the external coating (covering wall continuity) was made applying an ecological polyolefin sheet with high solar reflectance;
2. the extremely poor structural technology usually used for greenhouses here adapted for the home;
3. the internal floor covering is made by using anti-infiltration water resistance protective products on the prefabricated wood self-supporting panels (larch wood - polystirene - fire wood);
4. the modular structure created by partializing the larger project (first project included interior space to be used as a winter garden or a greenhouse);
5. to lift up the whole floor reducing the impact on the landscape, solving at the same time hydraulic problems;
6. hosting events.