When life gives you lemons, make lemonade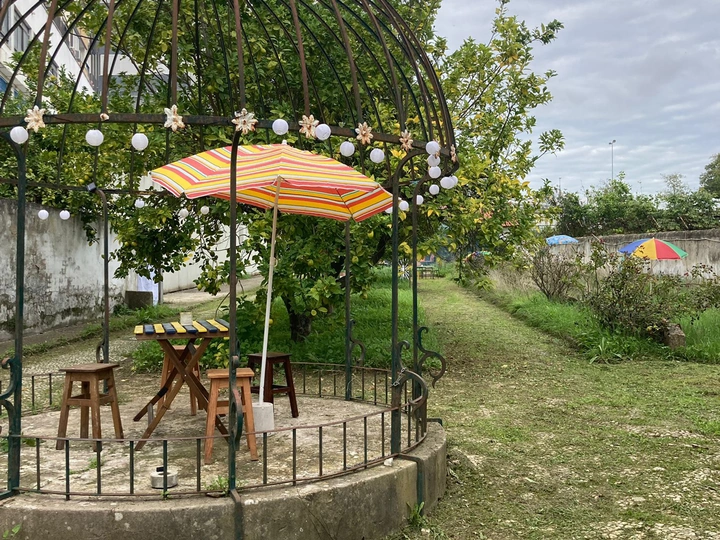 In Lisbon, there was an abandoned house and a garden with a lemon tree. Over a year, we transformed it into an ephemeral, social and cultural centre
---
Muro Atelier
Lisbon, Portugal
Links
Team members
Vincent Rault
Joana Tomas
Field of work
Architecture, Urban planning, Landscape architecture, Curating, Research
Project category
Urbanity
Project submitted
2023
Collective created by architects, Muro Atelier aims to question the notion of ephemeral in the city, through a participatory practice focused on the reuse of materials and the reactivation of unoccupied spaces.
Through their research, diagnosis, investigations, art installations and temporary occupations, this initiative proposes to change the city's metabolism, towards a more circular and sustainable system, helping any urban actor to understand and use the potential of the spatial and/or material waste at their disposal.
Muro Atelier works around 3 thematics :
1 REUSE
Through diagnosis and deconstruction, the collective wants to create a new practice, considering construction waste as a resource. The main objective is to analyze, deconstruct, stock, prepare and then reintroduce used construction materials into new projects, making our urban landscapes more sustainable.
This practice is not only about construction : the objective is also to create a sector with new non-delocalizable jobs
2 REVALORIZE
With these same used materials, Muro Atelier creates ephemeral, participative and self-constructed urban art installation, to question our public space and increase citizen interaction with art, architecture, circularity and construction.
Those urban installations tend to mark a collaborative presence in the city, telling different stories that interpret a spatial, cultural and social context
3 REACTIVATE
Waste is not only material. Our initiative temporarily occupies unused buildings to turn them into ephemeral cultural centres and open them to the public. It helps create a global community in a city that is everyday more gentrified.
Through an association called NA ESQUINA, the collective created two of these experimentation centres, and one is currently his shared workspace for impact projects and artist residencies
With these experimentations, we want to desacralize architecture and empower people to build their own city through circularity
---
Because of its over-gentrification, the unique cultural and social fabric of many neighbourhoods of Lisbon is eroding every day, but at the same time, thanks to slow bureaucratic processes, there are a lot of temporary unoccupied spaces.
As a group of citizens from various backgrounds and origins (artists and architects, from Portugal, France and Italy), we decided to create a cultural association called Na Esquina ("in the corner") to reactivate unoccupied spaces and turn them into ephemeral cultural centres.
In the middle of an architectural licence process for the renovation of a palace in the centre of Lisbon, we ran our first experiment between 2019 and 2021. We worked in collaboration with the owners to temporarily offer this space to citizens and create an inclusive, cultural and social centre out of it.
We created a community of more than 1200 members around 50 concerts and performances, 4 exhibitions with 42 artists, dozens of workshops, and 10 pop-up kitchens.
In 2022, even if we were kicked out after the obtention of the architectural licence, the owners decided to open the space to the public instead of turning it into another small-term rental set of houses as it was initially planned, thanks to the action of our association.
Since then, we have been legally occupying an abandoned house and a garden with a lemon tree.
The house was bought by a real estate company to build a student residency in five years, but instead of paying security guards and cameras, we decided together to create this tactical urbanism project and test new programs that may be implemented in the future project (like a vegetable garden for the student's canteen).
We adapted our intervention to make more collaborations with local actors, associations and artists, around political engagement and community.
It is now a workplace for creatives, a shared space for the locals and a small-scale production site in which we create our own beer and our own lemonade.