Resources of the future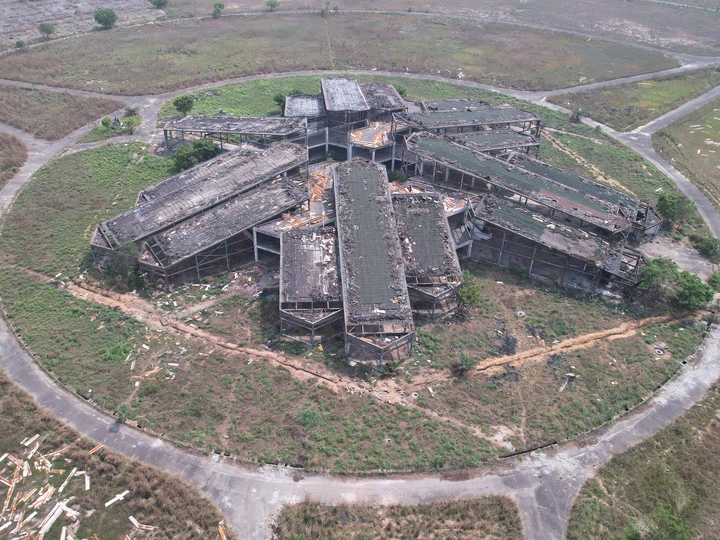 Abandoned architecture holds potential for the future in growing African cities. Networking will initiate the process of rethinking these places.
---
Tihomir Dičić
Belgrade, Serbia
Links
Team members
Tihomir Dičić
Iva Njunjić
Field of work
Architecture, Urban planning, Curating, Communication, Research
Project category
Raising awareness
Project submitted
2023
We are architects duo Iva Njunjić and Tihomir Dičić. This year we were exhibiting at Serbian pavilion at Venice Biennale. Before that we were working together on architecture competitions and in Belgrade based office.
Iva Njunjić (1994) She received her Master's degree from the Faculty of Architecture at the University of Belgrade (2019). She began her professional career at the office of Dominique Perrault in Paris, where she participated in various competitions and projects. She gained her professional experience through architectural practice in Belgrade. She participated in numerous international and national competitions.
Tihomir Dičić (1993) He received his Master's degree from the Faculty of Architecture at the University of Belgrade (2017). He gained professional experience in architectural offices in Bucharest and Belgrade. He was awarded for several architecture competitions in Serbia and the region and has exhibited at national and international exhibitions of architecture and design. He is architect activist, active member of NGO Streets for Cyclists.
---
We embarked on this project with the aim of shedding light on abandoned architecture that has the potential for reuse. African cities expect substantial population growth by the end of the century, which will further exacerbate the environmental crisis as urban development expands into natural surroundings. Due to economic crisis and political shifts, a number of large-scale projects have been abandoned. In collaboration with local experts, we aspire to survey these locations and initiate processes to revitalize them for the benefit of the community.
We visited The International Trade Fair in Lagos, which was constructed in the 1970s and had been abandoned in the mid-1980s. In the early 2000s, it began to transform into regional hypermarkets. Despite this process, some of the halls still remain abandoned, prompting discussions about their future. As part of our research, we conducted interviews with local sellers, market management, and architects representing the International Union of Architects, Nigerian Institute of Architecture, and the University of Lagos.
Tokunbo Omisore, VP of UIA, described this project as one that was built for the people, but not with people. To address this issue and explore potential solutions for repurposing the architecture, an architecture competition could serve as the initial step.
Our aim is to establish a network consisting of organizations and individuals from cities that are witnessing significant demographic changes. Through this network, we aspire to generate awareness about the potential opportunities for these cities. In Luanda, there are artists who are expressing their criticism of the city's developmental trajectory.
We need to understand the urgency of the present moment and find solutions. We see abandoned architecture as a resource for shaping the future. This network should open a space for people to share their point of view on topic that primarily concern them, or they are knowledgeable about.