SustainaMAP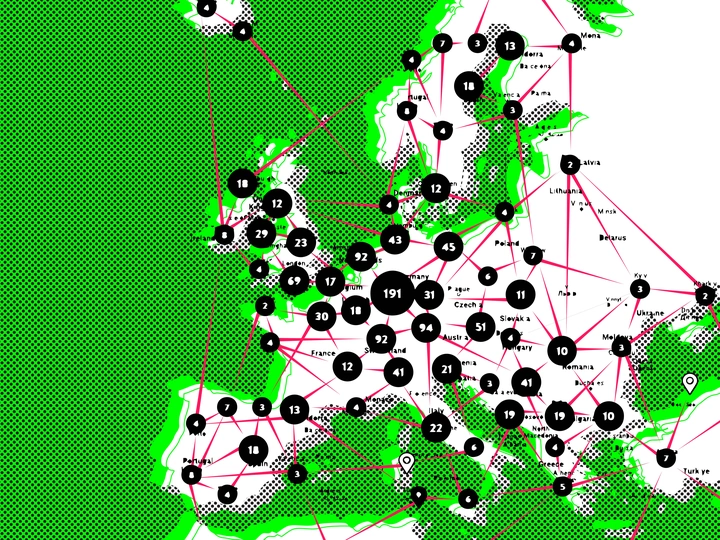 Making sustainable building initiatives visible via an interactive digital map.
---
build_shift
Berlin, Germany
Links
Team members
Vadim Bordiniuc
Melana Jäckels
Field of work
Architecture, Urban planning, Ecology, Communication, Research
Project category
Raising awareness
Project submitted
2023
We are Vadim & Melana, and our joint journey is a tapestry of learning, sharing, and collaborating with like-minded individuals to promote and experience sustainable practices in architecture & urbanism.
Melana's background in urban planning and genuine passion for architecture perfectly complements Vadim's expertise in social and spatial dynamics and international cooperation. Our mission resounds with a common purpose – empowering others with the impetus and tools to create a fairer world, all while embracing the essence of fun and optimism.
Together, we created and founded build_shift, an initiative that started as a curated collection of job offers in sustainable architecture and urbanism and is now evolving into a dynamic hub of resources, inspiration and connection. We envision build_shift as the first go-to place and digital companion for anyone who is up and ready for revolutionizing the built environment sector.
One of our earlier joint achievements was the creation of criti.co, an online learning hub for sustainable architecture and urbanism. This platform serves as a valuable resource for individuals seeking to gain knowledge and insights into sustainable practices.
One of Melana's highlights is also the development and implementation of a postgraduate program in sustainable architecture, which has been running successfully for three years now. This program has seen approximately 60 successful graduates and has been recognized for its excellence and outstanding impact in the field.
Beyond our digital ventures, we worked on different physical projects, including the conversion of an old van into a comfortable mobile home using natural and reclaimed materials or supporting the refurbishment of houses of impoverished families with sustainable and co-operative approaches.
---
A growing number of individuals and organizations are dedicated towards a climate-healing and socially equitable transformation of our built environments and are stepping forward to address those challenges with creativity and courage. At the core of our mission is a firm belief, that together, we can become a powerful force for positive change, cultivating a vibrant community that unites like-minded people and forges strong alliances to drive meaningful change.
But it's a straightforward truth: You can not reach out to someone, you can not ask for help, you can not share your experience, you can not team up with someone of whose existence you have no idea.
Our approach is both simple and powerful: literally putting all European endeavors genuinely committed to shaping a fair and ecological built environment onto a single, interactive, and collaborative digital map, with tailored filters for real needs. This grants the sustainable initiatives and movements the visibility and credibility they deserve, and it sets the stage for collective action, free from hierarchies or being overshadowed by big institutions or companies. Moreover, this unified map can become a canvas of inspiration, showcasing a diversity of strategies and solutions that are within reach.
The base of this map is built on years of work and networking. We have amassed an extensive database of significant organizations and projects, but this marks only the beginning. We want to practice what we preach: Our vision is rooted in collaboration and active participation. We genuinely invite others to join us as multipliers and curators, shaping the unfolding of this map together, both online & offline.
Our aim is to amplify sustainable initiatives' voices, driving tangible change in how we approach buildings, cities, and beyond. As awareness of the urgent need but also the possibilities for transforming our future gain momentum, we as a community can exert pressure for sustainable social change.