Timber economies of joy on HV's urban fringe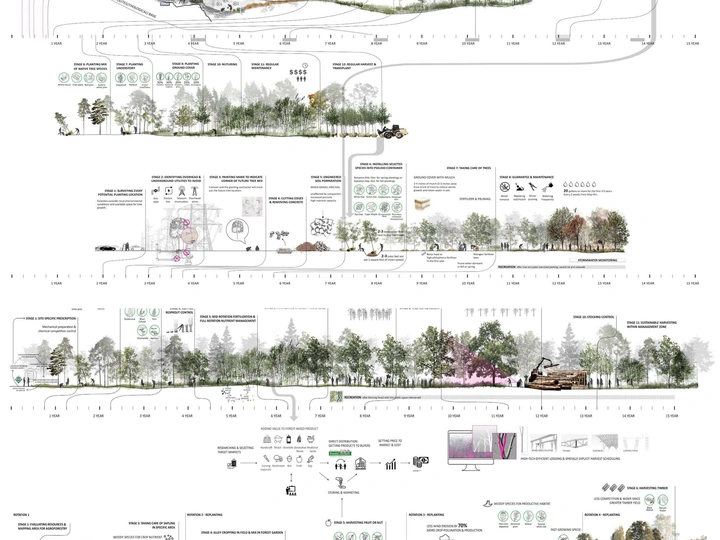 We envision repurposing marginalized land into a shared timber farm for socio-economic&environmental service provision between the city&its fringe.
---
Eleni Stefania Kalapoda (Project Lead), Menghan Zhang, Tian Hao, Kuan-I Wu
Athens, Greece
Links
Team members
Tian Hao
Eleni Stefania Kalapoda
Kuan-I Wu
Menghan Zhang
Field of work
Architecture, Urban planning, Engineering, Ecology, Research
Project category
Rural spaces
Project submitted
2023
We are a project Team of Architects, Urban &Landscape Designers, & Researchers, whom we met during our studies at Columbia GSAPP ,M Sc. Architecture & Urban Design ('20). The initial perception of the featured project was conceived as part of our Fall Design Studio at GSAPP & further enriched by our current professional and research-related endeavors.
The Project Lead's bio is as follows:
Eleni Stefania is a Greece&U.S.-based architect-engineer &urban designer (AIA Associa, LEED Green Assoc., ENVSP) focused on designing and building more efficient, intelligent, sustainable buildings and cities.
She graduated from GSAPP after having previously completed a five-year degree in Architectural Engineering from the NTUA, Greece. Her work is driven by a people-first approach, tailored to the diverse social, cultural, and economic urban contexts, environmentally responsible, and flexible to adapt to long-term future growth. She has served as a reviewer, research paper mentor, and contributor for several academic magazines and professional architectural and planning conferences, such as the Urban Economy Forum's (UEF 5) & ISOCARP's (WPC59) World Planning Congress 2023, Columbia GSAPP"s "Managed Retreat 2023", USGBC's Greenbuild 2023 International Conference and Expo, and UIA World Congress of Architects Copenhagen 2023, peer-reviewing publications on building technology and climate adaptation for Professor Billie Faircloth & Maibritt Pedersen Zari scientific panel.
Eleni Kalapoda is an interdisciplinary designer on civic, cultural, institutional, and infrastructural projects that integrate systems of economies and ecologies that reimagine the flows of people and resources throughout our cities and buildings, sustaining a holistic and future-responsive strategic framework for resilient urban development that is more equitable, just, livable, and committed to restoring the balance between the Earth's resources, ecosystems, and the communities that thrive in them.
---
The project aims to repurpose 2000 acres of underperforming and marginalized land for shared timber farming in order to enact a more adequate synergistic relationship (socio-economically and environmentally) between the built space and the fragmented Hudson Valley's forest.
In Hudson Valley, most of the trees are privately owned, growing on land at the fringe of urban development- Wildland Urban Intermix (WUI).
Tackling the large-scale U.S. monopoly of engineered-timber products, the project envisions a bottom-up timber economy- a vertically integrated, resilient timber supply chain- as a way to incentivize private landowners to sustainably manage their own forests while directly accessing a shared infrastructure of researching, harvesting, manufacturing and retail, waste-recycling and branding for their timber product. By creating a shared collaborative infrastructure for local forest and small-timber-business owners and entrepreneurs, new social partnerships and equally-distributed amenities will be created, boosting local economies while preserving the local and regional forest ecologies.
By sustaining long-term forest-plant-based economic development through this shared co-op system, Hudson Valley's scaled-down timber industry will be funneled while a more socially adequate distribution of profits between diverse communities will be achieved. Composed by four entities, the Center for Resilient Forestry which is clustered with Wood Innovation Facilities, the Certification Centers, the Sawmill and Distribution Center with additional facilities for Recycling and Storage and Renewable Energy Generation, this project provides a lasting infrastructure that promotes a holistic framework for profitable and sustainable timber agroforestry that ensures the wellbeing of both the forest and its inhabitants.