Virgil Abloh's Freedom Skatepark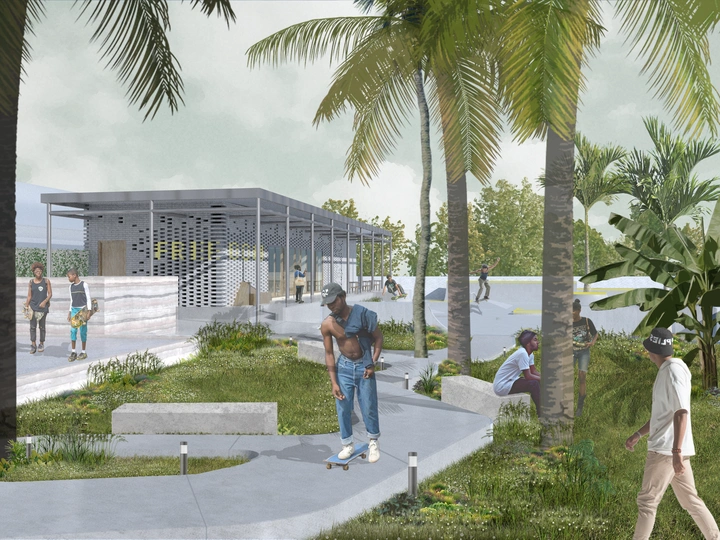 Freedom Skatepark is West Africa's first recreational skatepark designed to encourage community and sustainable development in Accra Ghana.
---
Links
Team members
Saloni Parekh
Field of work
Architecture, Urban planning, Research
Project category
Raising awareness
Project submitted
2022
Limbo Accra is a collaborative spatial design studio founded in 2018 by Dominique Petit-Frere, to work on architectural and urban design projects and public art installations. On this project I collaborated with experienced Indian architect and urbanist Saloni Parekh. Her work addresses urban inequalities, the politics of housing and city making and lies at the confluence of academia and practice.
---
Freedom Skatepark is West Africa's first competitive skatepark thus the challenge was to create a space that is inclusive, empowering and accessible to the youth in Accra who are limited by a lack of recreational spaces in the city. Board sports being a great driver of community meant creating spatial opportunities for social interactions were crucially important. Participative processes influenced the preliminary stages of programming through which a skate hub was deemed pivotal to support the skate area as it would provide a space for teaching, equipment rental, food and services while having the flexibility to host art shows, lectures and music concerts. These diverse drivers of engagement make the park not only a space of play but also a community center.
Consequently, the design straddles between the two big ambitions for the project: one where everything is "skateable" and the other where everything is "open to community appropriation". The first is achieved through a design move, where a skateable pathway winds its way around the park connecting various programs like the skate area, skate hub, parking and the landscape. This allows visitors to be nudged through, instead of around the park extending an invitation to try the sport.
Circular design thinking also guided the development of the scheme as the existing infrastructure on site was not raised but repurposed and adapted to serve the new use of the land. The built environment was used as a mine to resurface the land using construction debris to build the skate area. Other materials like wooden doors and window frames are proposed to be carefully removed to be re-used in new installations. Further locally available urban materials like concrete blocks and natural materials like rammed earth are used to to minimize the carbon footprint of the project.