BURNTWOOD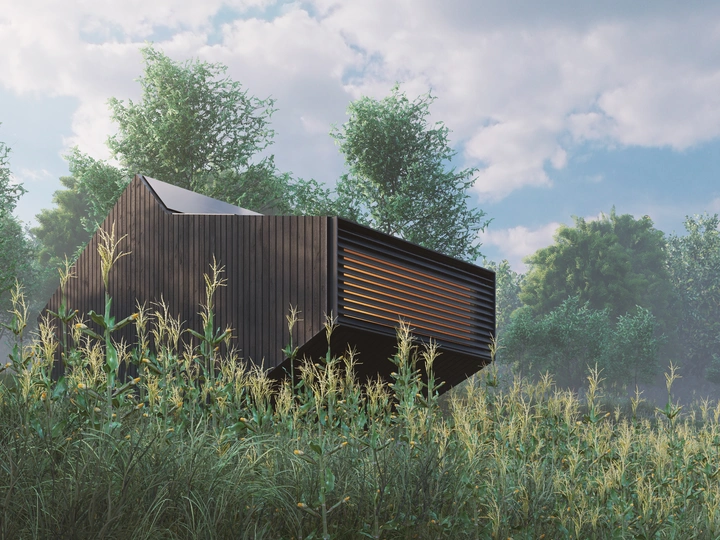 We designed an eco-friendly hut and placed it in a community to make it more sustainable.
---
Studio75
Vogošća, Bosnia and Herzegovina
Links
Team members
Hajrudin Omerović
Ahmed Peco
Field of work
Architecture
Project category
Public space
Project submitted
2022
Our team consists of talented minds who work together to design spaces that respect tradition and reflect the modern world. With many exciting projects underway, we rely on each other to tackle daily tasks and launch projects. We have just finished our Bachelor studies at the Faculty of Architecture of the University of Sarajevo and we are planning to do many more.
---
BURNTWOOD represents future of humble living, minimal use of space and recourses. Purpose of our community is to bring people closer, like a small village, socialize them and promote helping each other. This kind of living creates a neighborhood, strong social bond, and creates less unwanted footprint on our planet. Weet and corn fields surround our community, promoting local food growing as answer to Ukraine war and food shortages. Exterior is wrapped in charred timber, organic, resistant material, theme that runs trough whole project. Bearing structure is also from timber, and interior furbishing also made from wood. We tackled all sustainable parameters like solar energy, waste and water reuse, sun orientation, thermal insulation and natural cooling. We made sure that natural ventilation is possible, creating lower and higher openings and shaping our roof to guide the air. We considered compact designed, so we don't have too much external surface area. Compact, modular and cheap designed makes this hut, prefect for affordable housing, which is in dire need right now, and rapidly growing with our climate disaster. Residence are connected to nature, bringing back forgotten healthier way of living. Comfort is not the main focus, but adaptability of space for all ranges of function. Interior design promotes unusual living multi-use of space accompanied by cozy atmosphere.