Mahsul: Visiting the Yields of Rural Modernization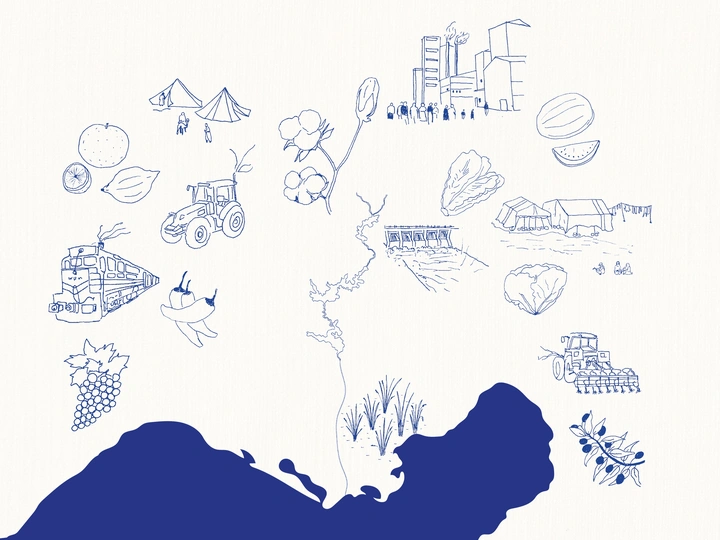 The project explores the spatial and ecological traces of rural modernisation in the Mediterranean geography, emphasizing indigenous ecologies.
---
Dilşad Aladağ
Berlin, Germany and Adana, Turkey
Links
Team members
Dilşad Aladağ
Burak Çevik
Aslıhan Demirtaş
Cansu Pelin İşbilen
Eylül Şenses
Yaemin Ülgen
Field of work
Architecture, Ecology, Multimedia, Curating, Research
Project category
Raising awareness
Project submitted
2023
Dilşad Aladağ is an architect whose practice is grounded in art, research, heritage and ecology. Her focus lies in examining the historiography of transformations with a particular emphasis on spatial and ecological subjects and the performances of power and resilience inherent in history-making.
Delving into multi-species processes and stories surrounding these transformations through archival and field research shapes her artistic process. She aims to reveal intersections and constellations and shape narratives through them as possibilities for poetic and political dialogues.
Her previous collaborative practices, such as the Plankton Project (2015-17) (The Garden of (not) Forgetting Project (2017-22), Hajde (2020-21), ALAN (2022-) exhibited at various avenues including SALT Research and Programs, Kunsthaus Hamburg, DEPO İstanbul, Jewish Museum of Franconia, 11qm Weimar, daadgalerie.
She received her undergraduate degree from the Department of Architecture at Istanbul Technical University and completed her master's in European Urban Studies at the Bauhaus University of Weimar. Her master's thesis entitled ''Narrating the Discordant: Research Exhibitions on Modernist Architecture in Turkey'' focused on the intention, position and influence of curatorial practices in architecture in Turkey. Currently, she is engaged in academia as a prospective PhD candidate in the Arts and Design PhD program at the Bauhaus University of Weimar.
Along with that, she is involved in various ongoing artistic research and production processes, including the Mahsul Project, with the support of the CultureCIVIC Grassroots Grants and Bayetav Culture and Arts Support Program and an upcoming publication entitled TAKLAK, with the support of SAHA (Supporting Contemporary Art in Turkey).
---
The project explores the spatial and ecological traces of rural modernisation in the Mediterranean geography, emphasizing overlooked indigenous ecologies. From a posthuman feminist perspective, the project critically examines how modernity brought a new lens of seeing the earth as an endless resource for human-oriented production lines. It prompted an association with the earth based on yield. Swamps were drained, dams were formed, nomadic communities were sedentarized, and grazelands were cultivated... From Nile Delta to the marshlands of Agro Pontino or Cilicia, indigenous ecosystems and linked knowledge were reclaimed.
Contemporary yields of rural modernisation still continue to impact Mediterranean ecosystems and jeopardise the last remnants of its indigenous components. As an important value of geography, pastoralists and rangelands are facing the risk of extinction due to their utilization for development and agriculture, according to the International Year of Rangelands and Pastoralists Alliance (2022). IYRP emphasizes that the coexistence of these ecosystems is essential for mitigating the effects of the climate crisis and developing adaptive strategies for the future.
In the face of this continuing reclamation and jeopardization of ecosystems, Mahsul Project explores the various connotations of yields in and around the Mediterranean as a multispecies historicity of rural modernisation. It concentrates on the intervention influenced by the common indigenous components of the Mediterranean regions, pastoralists and wetlands, and their stories that are often overlooked by dominant history narratives.
Through archival research, field visits and interviews with the remaining practitioners of indigenous knowledge, the project will explore indigenous bonds to earth on different Mediterranean landscapes and assemble a counter-narrative. Moreover, the dialogue and practices project initiates will serve as an instrument for future environmental practices.