Architectural education - center of crisis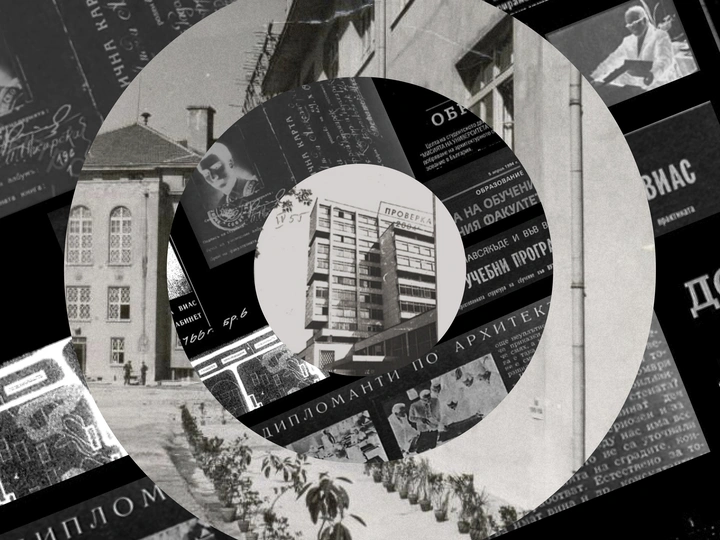 Crisis in Education to Open Dialogue of Change: Learning Lessons from the Past for a More Sustainable Future.
---
Underschool_
Sofia, Bulgaria
Links
Team members
Viktor Damov
Nikol Decheva
Diana Manolova
Pavla Minkova
Ruslana Papulova
Teodor Uzunov
Field of work
Curating, Communication, Research
Project category
Raising awareness
Project submitted
2023
Underschool_ is a collective actively researching architectural higher education. Currently, the collective is comprised of architects (Teodor Uzunov, Viktor Damov), students of architecture (Diana Manolova, Pavla Minkova, Ruslana Papulova) and graphic designer (Nikol Decheva).Together, we conduct research and organize various events, workshops, and temporary spaces.
The primary mission of Underschool_ revolves around investigating the current state of architecture education. Our focus is on identifying both global and local issues that affect architectural education and understanding their historical roots. We aim to communicate our findings back to the institutions in order to establish an open forum for authentic dialogue among all stakeholders in the educational process.
2022 - Underschool_ had a pop-up exhibition at the University of Architecture, Civil Engineering, and Geodesy in Sofia, Bulgaria (UACEG), which communicated our ongoing research process and our elective course results
2022 - As part of our research project, Underschool_ participated in a round table with the topic "Problems in architectural education in the XXI century," organized by the Union of Bulgarian Architects
2022 - Underschool_ collaborated with the UACEG to conduct an elective course titled "Observations of Architectural Education"
2022 - Underschool_ organized a series of five lectures named "Ideas in Migration"
2022 -The research project "Architectural education - center of crisis" started
2021 - Underschool_ organized a workshop named "underreality", as part of BASA (Bulgarian Architecture Student Assembly)
2021 - Underschool_ organized a workshop named "(un)controlled", as part of EASA (European Architecture Student Assembly)
2020 - Underschool_ conducted a workshop named "underschool_tactics."
2020 - Underschool_ organized one time lecturer event named "underschool_circle"
2020 - Underschool_ was founded by arch. Teodor Uzunov and arch. Viktor Damov
---
Тhe field of architecture is in a state of perpetual crisis. It revolves around the difficulties of convincing the public that the architects should direct the process of creating sustainable spaces.
The crisis center lies in architectural education, with outdated curricula, lack of diversity and inclusion and robust academic constraints.
The "Architectural education - center of crisis" is a research project, funded independently, based at UACEG (University of Architecture, Civil Engineering, and Geodesy, Sofia).
The project takes an analytical approach, viewing architectural education as a system complexly shaped by geopolitics, laws, economic interests, and academic traditions. By meticulously analyzing official documents and articles spanning 80 years, the project uncovers the compound structure behind architectural education.
The project addresses global issues locally, by uncovering historical roots and identifying problems as conservative curricula based on typological educational approach, lack of a studio culture, neglect of contemporary architectural challenges, and students treated as mere clients. Architecture has been seen as merely part of the building process, overlooking environmental and social costs of it and urbanism is understood only as a top-down approach.
Historical analysis reveals that many of these issues can be traced back to the period of Soviet dominance in Bulgaria (1944-1989) and the processes of colonization and self-colonization during that time. The failed attempts at democratization reforms in architectural education (1989-1999) and the impact of neoliberal reforms in the Bulgarian building environment (1997-2023) are also highlighted.
The project aims to communicate its findings through an exhibition, fostering authentic dialogue among stakeholders involved in education followed by initiating comprehensive reforms, addressing contemporary challenges, emphasizing sustainability and inclusivity.