There is more to Urban Limits than a Circular Road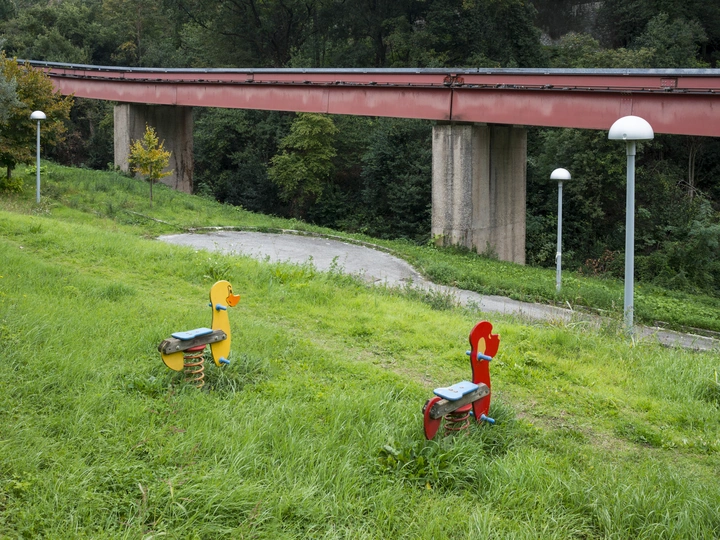 Walking from an urban center towards its edges, observing elements that shift our levels of comfort, either supportive infrastructure or obstructions.
---
Rafael Raposo Pires
Lisbon, Portugal
Links
Team members
Rafael Raposo Pires
Field of work
Visual Art, Multimedia, Photography
Project category
Public space
Project submitted
2023
Rafael Raposo Pires (b.1994) is a Portuguese visual artist with a postgraduate degree in Multimedia Art [Moving Image], from the Faculty of Fine Arts of the University of Lisbon. His body of work consists of photographs and video-performances produced along walking dérives made in various urban spaces.
Observing improvised elements led him to question the distance between urban planning and the way different people use a built space, publishing the photobook Alone Together (2017) in Berlin. His artistic research also involves comparing dérives on digital maps with dérives in physical space, trying to explore their bordering access points. Recently he has been producing photographs and video-performances related to the body: about its movement in a given built landscape, and the limits of physical wear and tear.
He exhibits regularly since 2018 in Portugal and abroad. In 2022 he was selected for the Bienal de Fotografia de Vila Franca de Xira, and took part in the artist residencies AiR_Cachopo (PT) and Default 22 (IT). He has received a mobility grant from Culture Moves Europe in 2023.
---
This project as started to be developed in Umbria (Italy) as an evolution of previous works of mine, where I practice walking dérives in diverse urban areas in order to create photographs.
While walking towards the outer areas of a city I am being guided by what my senses recognise as limits of an urban area. Main infrastructures such as larger roads, railroads and railway stations, dormitory blocks, industries, or even sport centres and urban parks, are what primarily bounds my areas of interest. From an improvised solution at a tennis court, to the child's swing overlooking the cable car line that interrupts the landscape, passing by the saddened truth of suburbia-looking cemetery houses, to the stiff barriers one encounters on a sidewalk, all these peculiar situations convey a certain humor and irony to me.
These borderline urban areas can often feel as monotonous as circular roads, since they end up being used mostly as rapid pass-through places. But when they are observed at a walking pace, several elements turn visible, better displaying their shape, materiality or function. Those elements found here convey me a sentiment of urban limit.
With this work I intend to bring awareness and boost discussion on the broader topics of urban planning. More specifically calling for attention to detail and consciousness on the choice of elements that surround us.
I am interested in expanding this project and to have the opportunity to photograph in other urban areas. Collaborating with a team of thinkers that produce research work in different regions.