Domestic (in)correction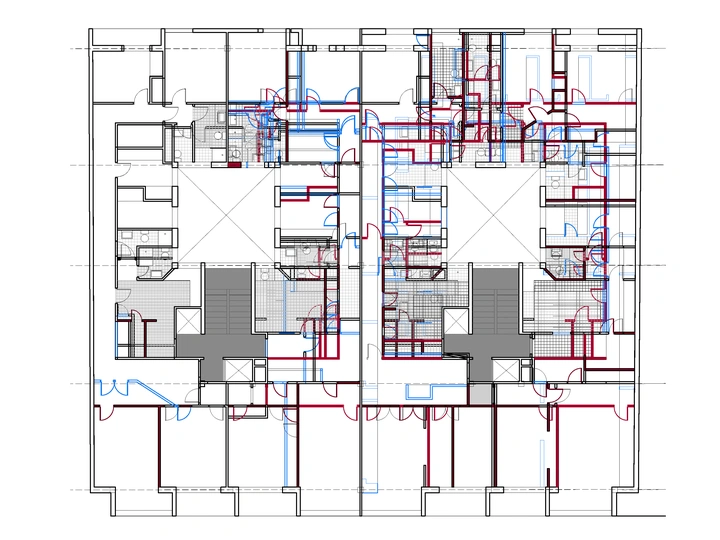 This proposal focuses on explore new data from the built housing transformations in city centers and apply these ideas to new Housing Projects
---
Daniel Gonzalez-García
Valladolid, Spain.
Links
Team members
Daniel Gonzalez-García
Field of work
Architecture, Design, Research
Project category
Renovation
Project submitted
2023
Daniel Gonzalez-García is PhD candidate of Architecture Projects and Architectural Theory Department in the Superior Architecture School of Valladolid. He received her Technical Architect Degree from USAL in 2012 and her Architect Degree from UVA in 2016. Daniel completes his MIA master's degree in UVA in 2018. His main research interests are Typology, Social Housing and Domesticity.
---
The most mutable and at the same time the most stable architectural spaces over time are domestic spaces. Its density of use, the continuous change in activities and in the variable number of people who live in these spaces over time force the configuration of the space to a great tension that responds to change.
Within the current architectural production of collective housing, the role of the user is still only linked to the idea of consumer or buyer, who chooses between the different types of housing already fitted out and therefore does not have a direct relationship in the configuration of the spaces that we will inhabit in the future.
Most of the domestic spaces we inhabit in our urban centers are on average five decades old. Many of these need, at a technical level, an intervention. These interventions allow new typological experiments that were previously only concentrated in social housing and even in single-family housing projects. The new processes are capable of provoking new critical spatial attitudes on the modern and pre-modern typologies where they settle, taking advantage of the available space by adding new complexities to it.
Intervention projects in collective housing are opening new project research fields oriented to new conceptions of the domestic space. These interventions mix what was learned during the research of the late twentieth century and early twenty-first century, generating a mixed domestic fabric in the city that has not been perceived or studied until now.
During modernity it treated residential architecture as a means to solve a problem of housing shortage. The methods used then found in N.J. Habraken its fiercest critic. In his early texts, Habraken conducted an analysis of various domestic spaces, looking especially at the changes that users had made to them This typological analysis will be the starting point of this research, demonstrating the validity of his theories to conceive a new collective housing.