softCollider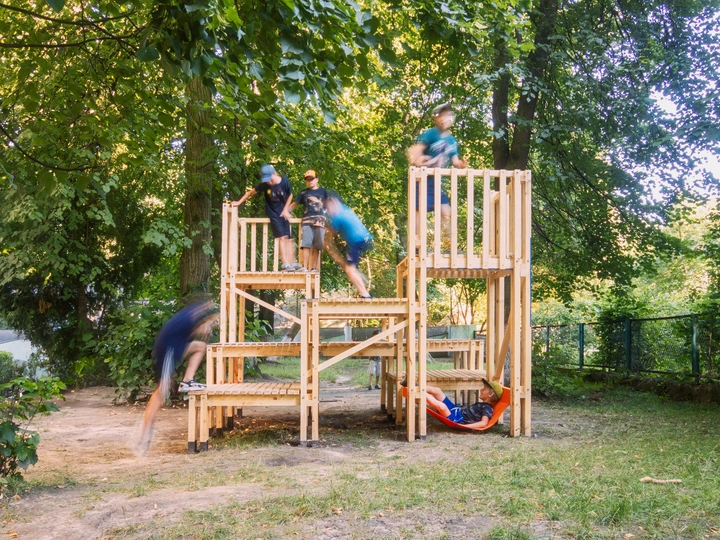 softCollider is an attempt to create spaces for spontaneous communication among students to develop their soft skills.
---
Volodymyr Petryk, Danyil Semenchuk, Olha Kozachenko
Lviv, Ukraine
Links
Team members
Olha Kozachenko
Volodymyr Petryk
Danyil Semenchuk
Field of work
Architecture, Design
Project category
Public space
Project submitted
2023
We are a group of first-year students from Kharkiv School of Architecture.
---
The post-colonial Soviet legacy left school spaces that are not adapted for students. The lack of common spaces, places of communication, and points of contact impede quality connections, discussion, and do not meet the principles of modern education.
During the war, schools faced many problems, ranging from physical destruction of buildings and property to overloading school spaces. To cope with these problems, we offer schools instruction and self-help project that is easy to implement on their own using available materials and without using specific equipment. Quick and easy solution may not be temporary and can qualitatively change the school space and the learning process for children.
softCollider is an attempt to create spatial conditions in which collision occurs. Creating an incident of unintentional communication, provoked by the multilevel and scale of the structure, will help student's to develop soft skills.
Guided by the condition of versatility, our project can take on different configurations - from the smallest unit to a massive structure. Different layouts create different scenarios. In our configuration (3x3 m), it is possible to conduct lessons in small groups, retire, have lunch together, and organise or observe spontaneous play activities. The presence of hammocks in protected secluded areas creates privacy. Different levels provide a large number of ways and scenarios for interaction. Our goal before implementing the project was to engage local plastic recycling initiatives to combine wooden platforms with plastic ones. By doing so, we would have raised the awareness of modern recycling methods among schoolchildren and local residents. That particular project was built with the help of Ukrainian Cultural Fond to reshape the school and local neighborhood life.
Implementing the project in different schools and places will be an opportunity for us to observe the changes and adaptation of the softCollider to the context and conditions.