Computation and Waste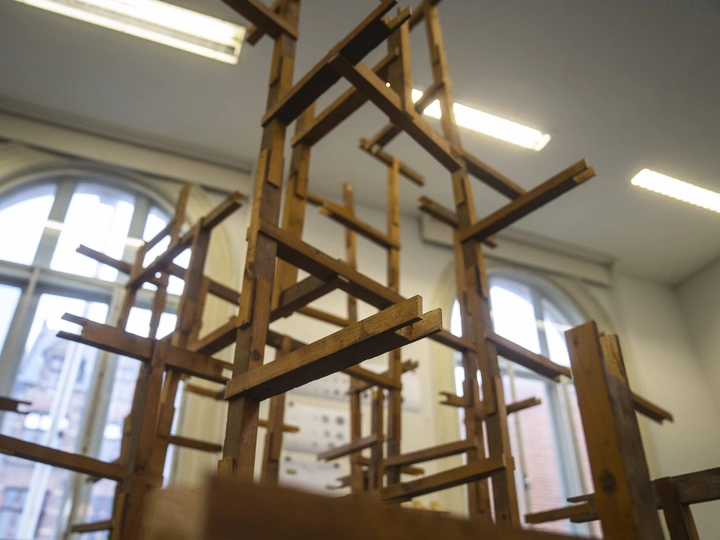 Using computational design software and 3D-scanning to turn discarded construction waste into products.
---
Stefan Lang
Den Haag, The Netherlands
Links
Field of work
Architecture, Design, Ecology, Communication, Research
Project category
Material tracking and reuse
Project submitted
2023
I'm a designer and tutor based in The Hague, NL and my work revolves around the exploration of the ecological aspects of our built environment. Collaborative projects with fellow designers and makers play a crucial role in my approach, as I believe in the power of collective learning and idea-sharing. This led me to start my own podcast, "Design For Change," serving as a dynamic platform for makers and designers committed to addressing the societal and ecological challenges we face.
After my graduation in 2022, I have showcased my work in numerous exhibitions and want to further explore this approach to construction and building, which is why I will start a second master's program in Stuttgart called "ITECH." This program focuses on automated building technologies, offering an ideal opportunity to further explore the intersection of parametric design tools and construction waste. By delving into this realm, I aim to push the boundaries of sustainable design and construction, unlocking new possibilities and solutions.
As a designer, I am deeply driven by the urgent need to address ecological challenges. This fuels my commitment to embracing innovative approaches that minimize environmental impact and foster sustainable practices.
With a strong foundation in collaboration, my work ethos centers around learning from and sharing ideas with fellow creatives. I firmly believe that collective intelligence and diverse perspectives are catalysts for transformative design solutions. With a focus on automated building technologies and a passion for sustainable practices, I am dedicated to forging a path toward a greener and more sustainable future.
List of Achievements:
10–2023 International Biennale of Glass, Sofia, BG
10–2023 »OYO-6«, Den Haag, NL
10–2022 Dutch Design Week, Eindhoven, NL
07–2022 »Wasteland Festival«, Den Haag, NL
07–2022 Graduation Show KABK, Den Haag, NL
11–2021 »Shameless«, The Wolfsonian, Miami, Florida, USA
---
This project addresses the pressing issue of construction waste by leveraging the capabilities of computational design software. The project aims to minimize the reliance on raw materials in the design and construction process, while envisioning alternative material futures beyond standardized options. It explores the potential of irregular surface structures to inspire new design possibilities.
The project begins by digitalizing discarded materials through the use of a 3D scanner. These materials are then collected into a digital archive, which serves as a resource for the computational design software. The software utilizes the geometries of the collected waste to create unique and sustainable products. This approach challenges traditional design practices and encourages a reimagining of the relationship between design and production.
By shifting the perspective, the construction dumpster becomes an archival site, and waste is transformed into valuable material for the design process. The aim is to ensure thoughtful designs that consider the user's needs while also addressing the social and ecological aspects of the environment.
The project also involves an interdisciplinary exploration of politics and overarching problems across different disciplines, fostering a holistic approach to design. It highlights the political nature of products and the importance of contextualizing them for meaningful discussions. To tackle the complexity of these matters, computational software with its mathematical abilities is utilized. This allows for the incorporation of multiple contexts and parameters, enabling a more comprehensive and informed design process.