Pastorals of Zagreb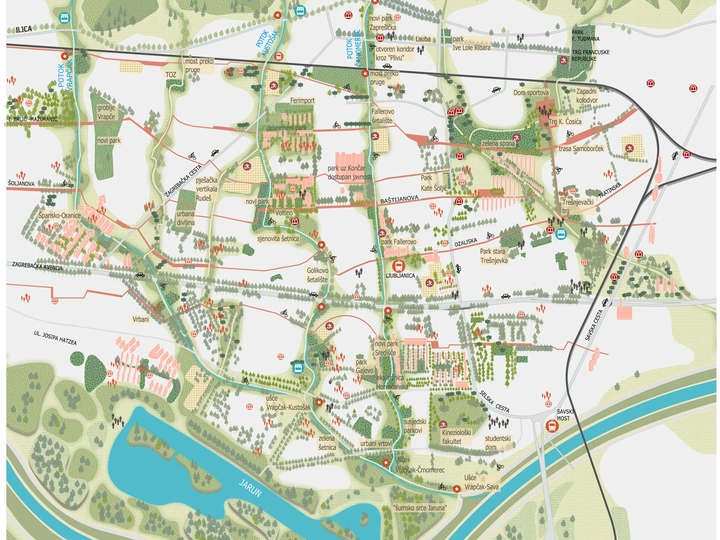 A Framework of Green and Blue Corridors for the Heterogenous City
---
Mauro Milli
Currently based in Vienna but living and working between Vienna, Zagreb, Rijeka, Istria...
Links
Team members
Mauro Milli
Sara Stojaković
Field of work
Architecture, Urban planning, Landscape architecture
Project category
Public space
Project submitted
2023
2006-2013 Study at Faculty of Architecture in Zagreb, Croatia.
2011: Fellowship for attending AA Visiting School Workshop in Dubrovnik, Croatia
After graduating from the Faculty of Architecture in Zagreb (magna cum laude) in 2013, I started working in the architectural office of Martin Kohlbauer in Vienna. During that time I was the lead architect for different residential and mixed-use buildings from sketch to completition, most notably the building complex "Korso im Viertel Zwei". I was also the team leader for different architectural compeitition (3rd price for Arch. Competition for Main Sqare in Rovinj, Croatia among others). Other assignments include completed exhibition design in Albertina Vienna, Jewish Museum in Munich, etc.
After successfully passing the State Exam for Architects in Austria in 2022, I have decided to start an independent practice which focuses on sustainable and regenerative aspects of the built environment, both on a pratical and theoretical level. With an international outreach, focused at the moment on the Mediterranean and Middleeuropean geographical regions, my aim is tackle the different spatial chalenges we are facing today with pragmatic hands-on experience (construction sites, building authorities, legislation...) combined with theoretical knowledge and comprehension of the built environment.
In collaboration with colleague landscape architect Sara Stojaković, I have started working on a series of project tackling sustainable aspects in public space. One of them is the essay/study Pastorals of Zagreb presented here.
Being a LINA fellow would enable me to sharpen the knowledge on today's burning themes and broaden the network of spatial pratitioners and institutions with similar ideas.
---
This project is a continuation of the ongoing research into ways of rethinking and activating public space in the city of Zagreb, which started as part of a multidisciplinary workshop on public space, organised by the Croatian visual arts and culture website Vizkultura (original essay in Croatian: https://vizkultura.hr/zagrebacke-pastorale/ ). The Pastorals of Zagreb are an ever-changing vision of a possible urban Arcadia in a city burdened with years of chaotic and inefficient planning practices and a lack of contemporary renewal strategies.
Challenges faced by the city of Zagreb considering the quality and availability of public spaces and green infrastructure have been exacerbated by the additional strain of climate change impact that is only going to increase in the future. Western city districts are especially vulnerable to these issues as they represent a highly heterogeneous urban structure, where around 170.000 inhabitants live without access to adequate public space.
Geographically, Zagreb is defined by the Medvednica mountain in the north and the Sava River in the south. Part of this landscape framework are numerous streams that have their springs in the mountain and flow into Sava River. Although most of the streams have been covered and canalised in their lower parts, the streams in the western parts of the city - Črnomerec, Kustošak and Vrapčak are flowing almost in their entirety through the city structure. This project researches the activation and revaluation of existing streams as the backbone of a public space system within densely built and fragmented, urban structure.
By analysing already existing bottom-up processes and advocating for a holistic approach to planning of green corridors that allows for biodiversity, recreation and pedestrian mobility, this green/blue infrastructure could become an experimental ground for processes of sustainable and regenerative design and inclusive society.