Social prepper strategies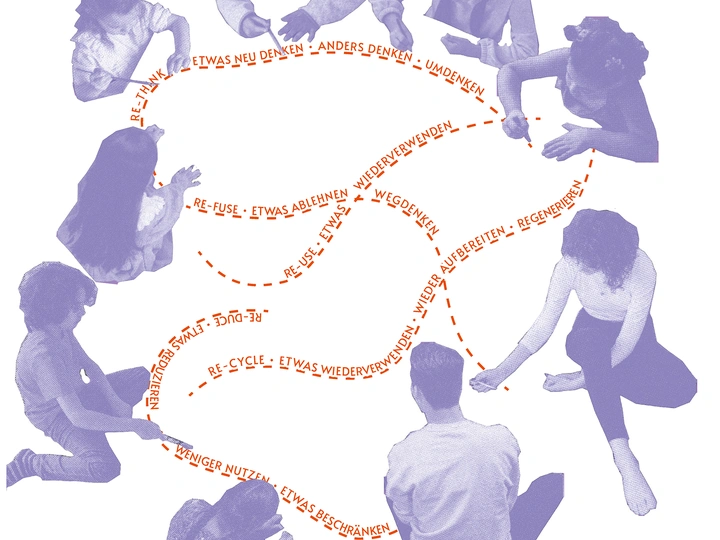 An archive of artistic activist research, practices and strategies for rethinking and living within a future of crisis.
---
Sarah Wenzinger
Berlin, Germany
Links
Team members
Sarah Wenzinger
Field of work
Visual Art, Multimedia, Curating, Communication, Research
Project category
Raising awareness
Project submitted
2023
Sarah Wenzinger is a Berlin-based artist, activist researcher, dramaturge, and educator who studied theater directing at the Ernst Busch Academy of Dramatic Arts. Her work centers around creating digital and analog spaces that encourage reflection and rethinking of complex contemporary concerns. She works both alone and in collectives and has developed projects for institutions such as Haus der Kulturen der Welt, the Berlin Biennial X, the Staatliche Museen zu Berlin, the NRW Forum Düsseldorf, and the Bauhaus Archiv e.V. In 2019, she was invited as an artist in residence at the Goethe Institute Kigali in Rwanda. She takes a subject-centered approach in her work using various formats such as site-specific installations, performances, walks, text, video, ceramics, interaction, and radical action assignments. Her exploration of social structures of power, perspective, and community is informed by a socially engaged praxis and a queer feminist lens. As an activist researcher and mediator, she has published two collections of strategies and methods for political artistic engagement with urban space and the climate catastrophe.These collections, rooted in the perspective of radical education, translate concepts from critical urbanism and the new materialism into assignments and strategies of artistic research to challenge dominant narratives and ideologies through critical reflection and self-reflexivity. As dramaturg of the BBB collective, she works on hybrid worlds of experience between virtual games and performance that play on posthumanist perspectives. Since 2019, she has worked on the concept of the social prepper in an open research collaboration with allapopp. This solidarity-based counter-proposal to apocalyptic narratives of fear focuses on reconnecting with historical resistance, facing climate grief, sharing knowledge, learning from other organisms, enduring the uncanny, and meditating on active hope.
---
Instead of a "project" I would like to contribute an artistic work practice to the lina community. Throughout my projects runs the concept of "activist research" - focused on inventing and unlearning strategies that negotiate a meaningful engagement with social and political conditions such as space, resources, distributional and climate justice and our shared futures (latest two publications on artistic research in urban spaces and confronting the climate catastrophe with young people.) I am interested in trying out, rethinking and, above all, sharing artistic strategies that make other political interactions possible. the social prepper is a radical antithesis to the concept of the prepper who barricades in bunkers, hoards and prepares for Hobbesian states of nature - drowning in a singular struggle for survival against all the other inhabitants of this planet. It is based on the trouble of facing multi-facetted simultaneous global catastrophes that are reaching into all spheres of life making it more difficult day by day to actively and mindfully witness what occurs & have energy left to reclaim spaces for action. I firmly believe that, given the current and future crises we face, we require different tools, and we can draw invaluable insights from artists and activists in all fields. Especially in the way we deal with anger and grief in the complex field of the climate catastrophe, searching for other forms of action and solidarity with each other and non-human organisms. That in focus, taking the LIMA community as an possible playground I would like to archive further practises on confronting and dealing with living in the current crisis on radical activist, artistic and emotional levels. Social Prepper Archive can be living practice, a preventive strategy, a concept of solidarity, is a pool of shared knowledge, a spellbook for reconnection, a preenactment for other possible ways of (re)acting without fear, creating hope, co-creating, co-thinking.