Social Imaginaries of Regenerative Communities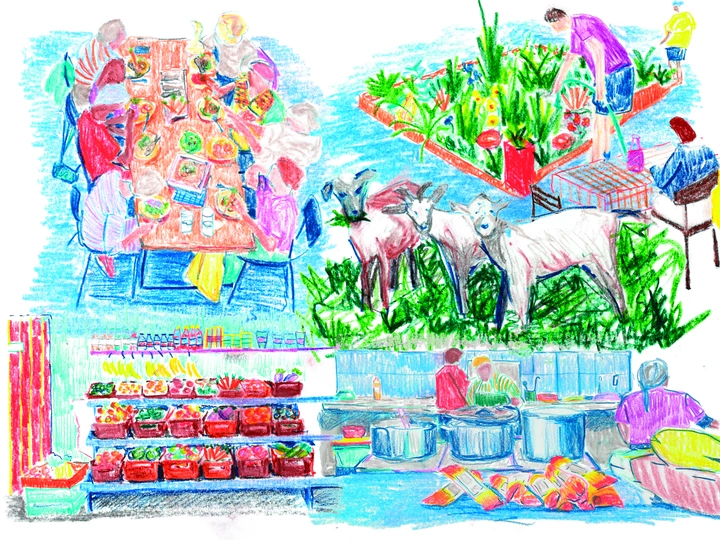 A documentary exploring community-based post-growth realities.
---
Space+ Collective
Copenhagen, Denmark
Links
Team members
Alexandra Vamberg Belli
Astrid Juul Jørgensen
Field of work
Architecture, Urban planning, Ecology, Film, Research
Project category
Urbanity
Project submitted
2023
We are an architect duo consisting of Alexandra Varmberg Belli and Astrid Juul Jørgensen, who are newly graduates from the Royal Danish Academy. Our practice began in 2022 with a short documentary called 'The Happy Few' (see link) based on a research trip accomplished in august 2022. We visited various eco-communities and cooperatives and conducted interviews with residents from 16 different projects in central Europe. We wanted to investigate how these projects offered alternative approaches to the organization of the built environments, ecological solutions, ownership models, and innovative ways of sharing spaces and living together. The documentary posed the question – does the presented solution truly represent the broader community, or is it limited to the happy few? It was very well received, and we have been invited to give lectures and screenings, both at architectural studios and at two master programs at the Academy. Furthermore, it will be displayed at the Planetary Boundaries exhibition at The Royal Danish Academy in the fall. Since then, we have continued to work within the framework of community building and sustainable living in two directions; Alexandras diploma project investigated the potential of co-living in social housing models in planned project at Christiania in Copenhagen (see link to project), and Astrid is currently finishing an academic diploma researching the potential of 'Resonant Architecture' using the theoretical framework of Hartmut Rosa, investigating how a pioneer grassroot-, and a developer-led eco-community organize themselves around collective resources. We are now in the initial phase of our next project, a documentary on Social Imaginaries of Regenerative Communities and are currently applying for funding. We wish for our practice be explorative and in the intersection of research, theory, architectural methodologies, and filmmaking. We would absolutely love to be a part of and contribute to the LINA foundation as a fellow.
---
Social Imaginary is described as a set of imagined ideas, practices, orientations, values and so on that binds a society together. Regenerative is an active approach with seeks to restore, heal, renew, or revitalize relationships to biodiversity, land, non-humans, resources, and people. Community can be described as group of people having something in common. These three concepts set the framework for our next documentary, in which we wish to delve further into ideas and practices of community-based solutions that goes further and starts to actively regenerate lands, resources, relationships to non-human. We believe that these explorations could bring valuable insights into a future beyond the constraints of growth-oriented paradigms. In our first documentary, we explored Eurocentric perspectives and approaches to sustainability. However, we recognize that there is another crucial debate in the wider discourse on systemic changes, one that focuses on the diversity of ways of living in the global south. Our next documentary will therefore explore different ways of world-making beyond the global north. Currently we are looking into communities like Isla Grande de Chiloé in Chile, an urban community that prioritizes circularity to minimize waste and urban-community kitchen-projects like Comedor Popular La Balanza in Lima, Peru. Since we are still at the initial phase of the project, we are actively researching various communities and seeking potential partnerships. We believe collaboration with others is crucial, especially when exploring communities that lie outside our own cultural background. Our plan is to dedicate a five-week period in primo 2024 to study, film, and interview various communities and their residents and local experts. These real-life cases will serve as the foundation of our documentary. We hope that the documentary could bring forth new insights, inspire, and start meaningful conversations about how we can collectively confront the climate crisis.