Re-birth-Trauma as a performative process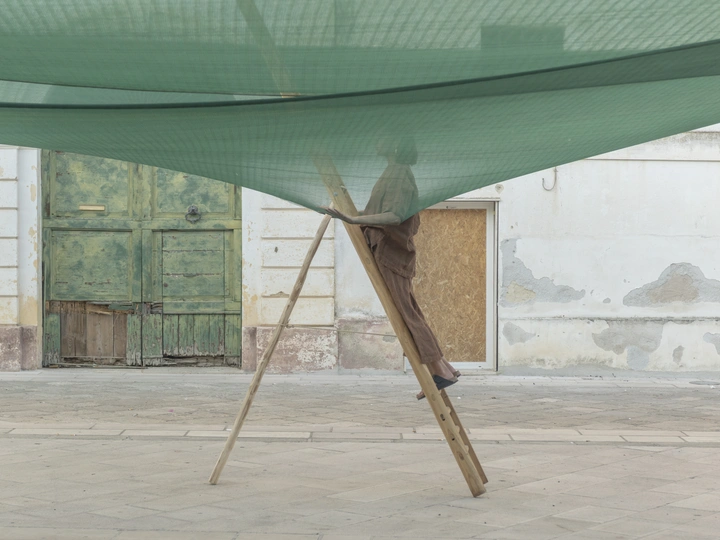 Aperformance that reactivated a harvest that is no longer part of Apulian territory, reviving memories that are still part of thecommunity's identity.
---
Roberta Di Cosmo
Rotterdam, Netherlands
Links
Team members
Roberta Di Cosmo
Field of work
Design, Landscape architecture, Ecology, Research
Project category
Raising awareness
Project submitted
2023
My name is Roberta Di Cosmo, I am a designer and researcher living in Rotterdam. My practice is multidisciplinary, I work with indoor to outdoor spaces, from performances to public installations, collective projects to self-organised, I mainly investigate the role of landscape as a container and register of social systems, designing new lenses to be able to talk about future systems.
Through my work as a designer, I have developed various design practices that have materialised in videos, archives, performances, exhibitions and cultural programmes. My practice is mainly based as a mediator in the fields of architecture, design and art, my passion lies in creating networks and collaborations with others - including designers, artists, farmers, craftsmen, philosophers, gardeners and experts of all kinds, to create lived experiences and new communal knowledge. My approach is diverse, thanks to my different backgrounds managing to seamlessly stitch together who I am. I studied Interior and Space architecture in Florence, Product design and innovation in Milan and I completed a master's degree in Social Design at the Design Academy Eindhoven, where I explored new methodologies of approach for future scenarios by bringing together design, art, urban spaces and rural landscapes. After receiving my Master, I started independent research practices also collaborating with collective studios using design as a process to investigate social, material, and urban spaces and geopolitical projects. Experimenting with different educational forms, creating workshops, games and interactions with the audience.
And in recent years I have focused on working closely with landscape architecture studios and developing new methods of research and interaction to approach new methods of mapping and investigation. My practice is about connecting, creating collective programmes and interacting with space and its inhabitants, in all its forms, scales and origins.
---
In recent years my land has been affected by a killer bacteria, Xylella. A pandemic disease that has travelled more than 10,000 kilometers before reaching Puglia.The bacterium Xylella has found a new home in the green archetype of my culture–the olive tree.We're losing a familiar landscape, an agricultural surroundings part of our identity and our memory.We are losing a sense of history, a part of the family, a kinship with the landscape.We are experiencing a collective trauma.A trauma that is recorded in our memory, but has not being addressed yet as community. What does it mean to lose the sense of a place that is part of our history?Rebirth investigates how trauma can be a resource rather than a wound, how mourning can be an action that grows fruit a generative analysis of a territory.
In this way, the landscape is a key piece that may help unlock the secrets to the question of living with trauma.In July my journey to the south of Italy began,in Racale (Le) as the perfect setting for my project and the first city to be affected by the bacteria.
Piazza SanSebastiano is the main square of the city, and I decided to start from the central square because the whole life of Racale revolves around this place.
The square until 10 years ago was the market of ladders before the harvest season. From 26 July to 31 July I installed the nets, following the same harvesting rhythm, working with the usual harvesting tools and experimenting with them in order to understand and figure out different possibilities for new rituals. The ladders played an important role during the activation of the performance and the beginning of the ritual.Five days that, like clockwork, reactivated a harvest that is no longer part of this landscape, reviving memories that are still part of the community's identity. a performance that invites a collective rethinking of our relationship with the landscape.
In this way, it explores the passages related to trauma and mourning as an asset to rebirth.