McDonaldization and Architecture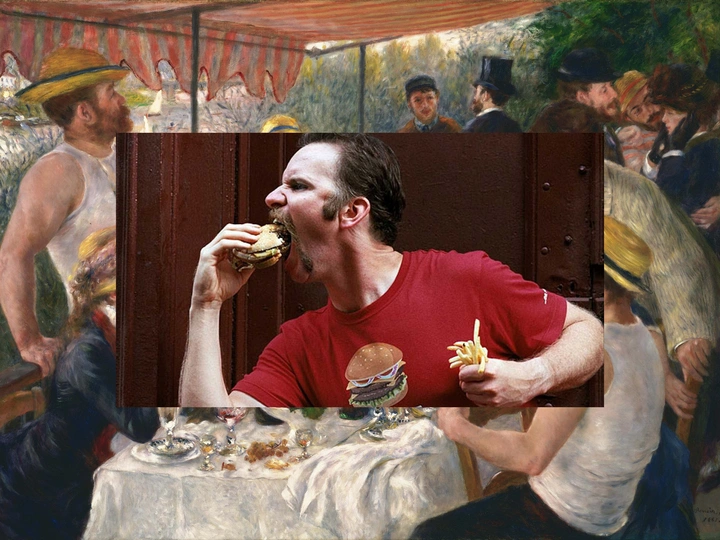 Under McDonaldization, where the principle of the fast-food is coming to dominate every sector of society, how does this process affect Architecture?
---
Angela Juarranz + Antonio Cidoncha
Madrid and Pamplona, Spain
Links
Team members
Antonio Cidoncha
Angela Juarranz
Field of work
Architecture, Design, Urban planning, Ecology, Research
Project category
Public space
Project submitted
2023
Angela Juarranz is an Architect, and PhD in Architecture at the Universidad Politécnica de Madrid. She teaches Design Studio at the Escuela Técnica Superior de Arquitectura de Madrid and has been Visiting Scholar at the University of Columbia.
She combines professional projects with academic, and research activities. Her research has been awarded with the Research Grant in New York (Spanish Royal Academy of Fine Arts and Arquia Foundation) and the FPU Grant, among others. Since 2019, she is member of the Editorial Board of "Cuadernos de Proyectos Arquitectónicos".
She directs Estudio Juarranz, an architectural office founded in 2012 and currently based in Madrid and Soria. The office has received national and international recognitions, such as the Spanish Biennial of Architecture and Urbanism Finalist; First Works Bauwelt Finalist; Europan Prize; COAM Award; COACYL Award; Madrid Municipal Housing Company First Prize; ASCER Award Finalist; PFC COAM Award, among others. The projects have been published in journal such as Arquitectura Viva, AV Proyectos, Arquitectura, CSCAE.
Antonio Cidoncha graduated in Architecture from the University of Navarra (2007-2013) with the distinction of Honors in the Degree Final Project. Master in Theory and History of Architecture in 2014. PhD in Architecture in 2018, he currently works as a lecturer at University of Navarra. Editorial Coordinator (2015-2021) and Associate Editor (2021-) of the magazine "RA. Revista de Arquitectura".
As a result of his built work and projects he has received merits and recognitions, the selection in the prestigious FAD, BIGMAT or COAVN awards or the cataloguing of his work in the ARQUIA PRÓXIMA festival.
His work has been published in magazines as Arquitectura Viva, On Diseño and several high impact websites as Dezeen or Archdaily. In May 2022, the exposition Ecosistemas.zip celebrated in Madrid recognized his work as one of the top 10 Spanish practices under the age of 35.
---
G. Richter describes McDonaldization as "the process by which the principles of the fast-food restaurant are coming to dominate more and more sectors of American society as well as of the rest of the world". McDonaldization has proven to be an inexorable process by sweeping through seemingly impervious institutions and localizations. Architecture is not an exception.Why is the model so irresistible? It offers efficiency. The best available way to get from being hungry to being full.
It offers calculability. Quantity has become equivalent to quality. It offers predictably. Same over time and in all locales. From Times Square to the outskirts.It controls you. The substitution of nonhuman for human technology prevails.
McDonaldization had undoubtedly led to positive changes: such as economical alternatives to high-priced goods, the diffusion of technological innovations through networks of identical operators, and the equal treatment of the population, no matter what their race, gender or social class.
Though McDonaldization offers powerful advantages, it involves several downsides. It has produced a wide array of adverse effects on the environment; second, it affects population health through production methods and social determinations; and finally, it led to a cultural homogenization through the popularization of customs.
How does this process affect architecture? With Europe as a laboratory, we propose to measure it, catalog it and generate a manifesto from which architecture can discuss the boundaries of the urban environment. The format consists of a workshop and a publication-manifesto. Based on the matchmaking meetings, we will develop the project in a European city, such as Berlin, Rome, or Madrid.Under this framework, the unmasking of the McDonaldization movement in the city will be studied under the umbrella of the main issues of the discipline:Generic design, Generic materiality, Environmental side-effects, Des-humanizing space, Des-humanizing process