Nursing the Care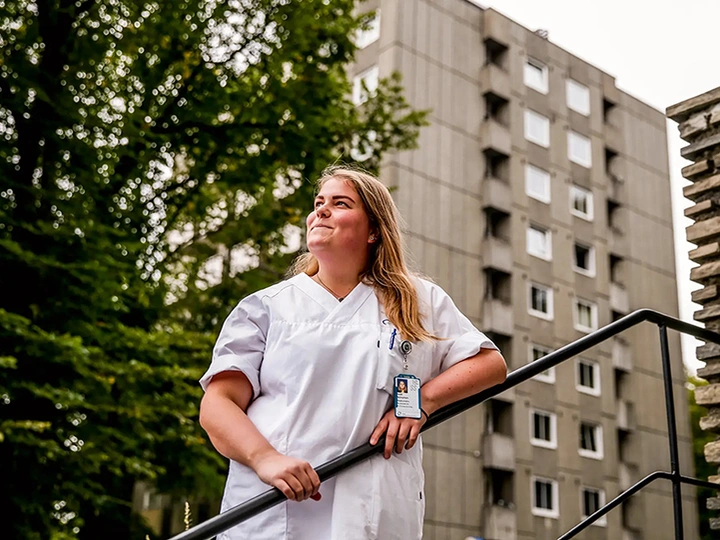 The Imperative of Health-Oriented Neighbourhoods: weaving fabric of health services, care workers and comprehensive care in existing social housing
---
Links
Team members
Anna Helle-Valle
Elida Mosquera
Jerome Picard
Sebastian von Hofacker
Field of work
Architecture, Urban planning, Landscape architecture, Film, Research
Project category
Renovation
Project submitted
2023
LOCAL is a European architecture and urbanism studio with offices in Bergen, Brussels and Paris, founded by Matthieu Boustany, Benoist Desfonds, Gilles Guyot, Elida Mosquera & Jerome Picard.
LOCAL promotes an inclusive and intergenerational architecture and develops an in-depth experience of participative processes. Greymatter aims to place our seniors at the center of urban redevelopment and addresses the institutionalization of health to reintegrate it into our daily life. Their approach has been awarded and selected for numerous international events.
With a mindful approach to design, LOCAL works with wood to sustainably transform the construction industry. They recently delivered a prototype of a 100% wooden house, selected at the latest Venice Architecture Biennale and just delivered their first Greenstations, a new generation of energy hub.
LOCAL works on a wide range of transformation projects including art gallery, youth-center or eco-hotel, creatively adapting existing buildings bringing meaning, vitality and durable values.
---
How can we take care of our existing social housing estate while creating new compassionate communities? Nursing the Care is an award-winning project presented for the call Neighbourhoods for Generations by Landsbyggefonden in 2023. LBF owns more than 20% of the housing mass in Denmark, social housing built over a period of 50 years. The proposal is undergoing in Axelborg and has been presented in an exhibition in Copenhagen this summer.
By 2060, 1/3 of Europeans will be over 65. Denmark like other European countries faces a growing nursing shortage; home affordability for nurses in Norway is at a record low. Nursing home costs burden municipalities, while France and Germany see expanding "medical deserts". Modern healthcare contributes to formidable aging. Many old, though, experience isolation, loneliness, and cognitive decline requiring social contact and community involvement. Overstretched welfare systems need compassionate communities.
NTC prioritizes health services in neighbourhoods for an aging society. These trends underscore the urgency of its mission: to design a built environment that facilitates sustainable, intergenerational, health-oriented communities while inspiring a new generation of health workers.
Our model proposes practical solutions within existing public housing:
Housing: New co-living typologies with adaptable layouts for professional and non-professional carers, as well as for the elderly
Active ground floor: Health-oriented facilities like physiotherapy centers and rehabilitation centers
Large interventions: Seamless integration of care centers into existing housing estates as part of the community fabric
New mobility pattern: Communal and regional distribution of health services and housing for health professionals
Our proposal is a design-based method to address the problematic in other social housing districts in Europe and an opportunity to encourage debate and involvement from various stakeholders in the project.