Letterkenny Walks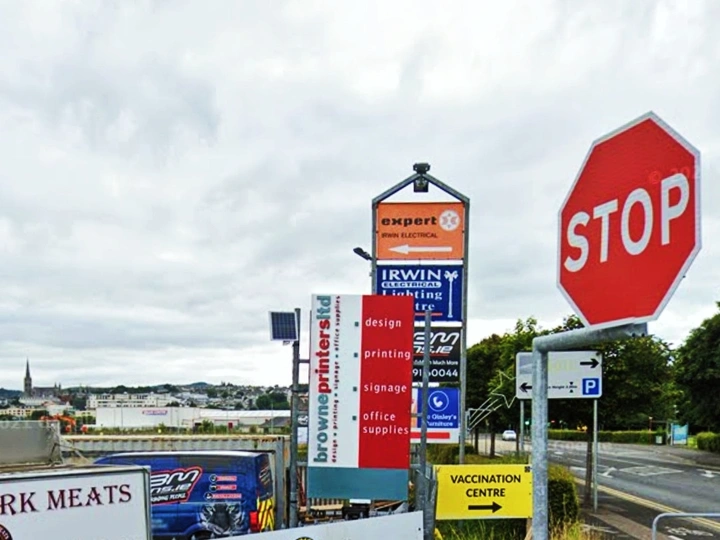 Describing a walk through Letterkenny; critiquing car-oriented urban spaces and cataloguing existing conditions ahead of redevelopment.
---
Gary Hamilton & Ailbhe Beatty
Letterkenny, Co.Donegal, Ireland
Links
Team members
Ailbhe Beatty
Gary Hamilton
Field of work
Architecture, Communication, Research
Project category
Sustainable mobility
Project submitted
2022
Graduates of the UCD School of Architecture, our primary interests are in placemaking, sustainability, and communication. Our joint vision for the redesign of Letterkenny Market Square was one of 6 shortlisted proposals brought forward for public consultation.
We are both members of the IAF Graduate Panel. As graduate architects, we engage in writing and research in parallel with professional practice - having published works with Architecture Ireland, 'Story,Building' and Places Journal.
---
Explored through the medium of an experiential ambulatory narrative - the project aspires to interrogate the development of Letterkenny as a car-oriented town, framing its contemporary spatial arrangement within the broader social, cultural, and geographical conditions that led to its emergence.
Spatially-led, the piece would emerge through the guise of a walk, or series of walks, where a narrative emerges via the challenges presented by experiencing the town on foot, at a human scale. This approach subverts the dominant experience of the town (from the car) - drawing on the works of Ian Nairn's descriptions of places as well as Venturi / Scott Brown's recasting of oft overlooked or loathed conditions in a new light.
Within the context of a number of new developments planned to enhance the town's public realm infrastructure, the project seeks primarily to catalogue and observe existing spatial and material conditions - reexamining their origins and casting them in a new light as intuitive and inevitable products of their time.
The project is intended as being archival in nature, capturing a snapshot of a place in a particular moment in time before plans of significant urban redevelopment come to fruition. It begs questions about what we keep and consider relevant or discardable in urban environments during periods of redevelopment. It takes a moment to pause on the experience of current maladies, the conditions that instigated cries for redevelopment in the first place, and casts a focused lens on specific spatio-material elements of intrigue that may not withstand this period; the necessary casualties and ephemeral curiosities of a car-centric town.
The project reflects more broadly on more sustainable approaches to mobility within urban cores and how mobility shapes perceptions of place.